2006: #83 – The Eighth Commandment (Lawrence Sanders)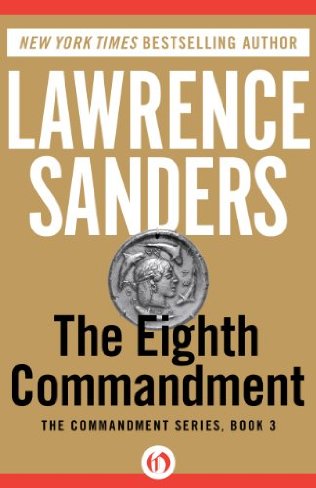 The Eighth Commandment
by
Lawrence Sanders
Series:
Commandment #03
Published by
Berkley
on July 1st 1987
Genres:
general mystery
Pages:
352


A priceless Greek coin stolen from a locked display case...A gutsy, appealing heroine determined to find it. . . a wealthy New York family concealing corruption, scandals, and perversions behind their respectable facade. . .
Book #83 was The Eighth Commandment, by Lawrence Sanders.
This book was not at all what I expected. I've never read Lawrence Sanders, and based on the little bit that was on the back of the book I was expecting a more serious whodunit. What I got instead was funny and lighthearted and, most surprising, featured an interesting and endearing female lead character. I hope he's written more books with Mary Lou Bateson in them, because I really liked her and related to her right away. I didn't completely agree with the decision she makes at the end of the book, but I sort of understand it.
Book count: 83
Pages in book: 343
Page count: 35,968
Words in book: 103,562
Word count: 10,747,537
1,000,000 words surpassed — 2/2/06
2,000,000 words surpassed — 2/14/06
10,000 pages surpassed — 3/10/06
3,000,000 words surpassed — 3/16/06
4,000,000 words surpassed — 4/3/06
5,000,000 words surpassed — 5/30/06
50 books surpassed — 6/12/06
20,000 pages surpassed — 6/29/06
6,000,000 words surpassed — 6/29/06
7,000,000 words surpassed — 7/21/06
8,000,000 words surpassed — 8/18/06
30,000 pages surpassed — 9/3/06
9,000,000 words surpassed — 9/6/06
10,000,000 words surpassed — 9/27/06