2017: #21 – Candlemoth (R.J. Ellory)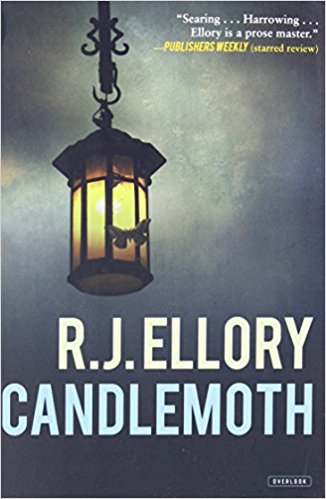 Candlemoth
by
R.J. Ellory
Published by
The Overlook Press
on April 29th 2014
Genres:
literary fiction
,
mystery
Pages:
352


With the verve and gift for gripping storytelling that made his previous books international bestsellers, R.J. Ellory returns with a dramatic saga of murder and retribution, set in the tumultuous 1960s.

Daniel Ford and Nathan Verney were six years old when they first met by a South Carolina lake and became best friends against all odds—Daniel was white, and Nathan was black. Thirty years later, Daniel is convicted of Nathan's murder, and he now faces the long, lonely walk to the electric chair. With time running out until his execution, Daniel tells a sympathetic priest his story, sweeping through first loves, Vietnam, and, finally, the pair's flight from the draft, which ended in Nathan's brutal murder. A powerful vision of the American South in an age of upheaval, Candlemoth is a stunning suspense novel—and an unforgettable tale of lost friendship.
"Four times I've been betrayed – twice by women, once by a better friend than any man might wish for, and lastly by a nation. And perhaps, truth be known, I betrayed myself. So that makes five."
R.J. Ellory always grabs me from the instant his story begins. This is the third of his novels I've read (the first he published), and each time I've been captivated by the opening lines.
Candlemoth is the story of Daniel Ford, a young white man who grew up in the South Carolina of the 50s. From the beginning of the book, you learn that Daniel is on death row, awaiting execution for the murder of his best friend, a young black man named Nathan. And you get the feeling that Daniel is actually not guilty, and not just because he says he isn't.
What follows is Daniel's recollection of his and Nathan's life together, from their school boy days to the tumultuous times surrounding the Vietnam War, all the way to Nathan's death. (Note: Coincidentally, while reading this I was watching Ken Burn's Vietnam documentary, which helped me connect to the story even more.)
"If I try to collapse this thing into one statement, like trying to synthesize the extent and scope of my life into one paragraph, it is really about nothing more than a friendship. My friendship with Nathan Verney was really the beginning and end of everything. It was with Nathan Verney that I discovered the world, and I cannot think of any significant event that occurred prior to his death that we didn't share."
Theirs is a close and unusual friendship, in the days when the Ku Klux Klan still infiltrated the highest levels of society and white boys were not encouraged to play with their black compatriots. We see everything through Daniel's eyes, both the past that he is recollecting to Father John Rousseau during the final days of his captivity and the present, as he tries to come to terms with his impending execution.
"Maybe the closer you get to your own death, the nearer you are to the dead."
The final 15% of this novel is a master class. Ellory creates a palpable tension as Daniel's execution date closes in and his own sense of time becomes more and more disoriented, until he is no longer sure when exactly he is going to die. Can he be brave in the end? Will he beg for his life? Will he feel forgiven, or forever condemned? I couldn't put it down.
The way the story wraps up was not completely unexpected to me — I had somewhat caught on to what was going on — but there were still some surprises in store. All in all, I found the ending very satisfying.
If you enjoy character-driven crime stories, Ellory is the guy for you. I'll say it time and time again.
Other reviews:
"This is one book that will haunt you long after you finish reading it and make you wonder just what is next for the people of this small town. Will prejudice ever be erased? Will there ever be a time when we judge others for who they are and not the color of their skin or race?" – Just Reviews
"This masterfully written 'time capsule' examines through 'Hindsight, our cruelest and most astute adviser' political and social issues that, for good or bad, define American culture today. It made me question all I learned growing up in the South in the '50s and '60s." – 20SomethingReads