2021: #68 – The Curse of the Pharaohs (Elizabeth Peters)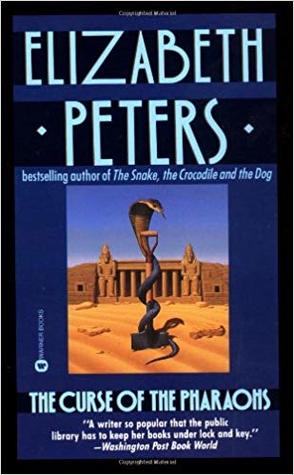 The Curse of the Pharaohs
by
Elizabeth Peters
Series:
Amelia Peabody #02
Published by
Warner
on 1981
Genres:
mystery
,
amateur investigator
,
historical mystery
Pages:
285


Also by this author:
Seeing a Large Cat
,
The Mummy Case
Also in this series:
Seeing a Large Cat
,
The Mummy Case
Victorian Amelia Peabody continues to journal her Egypt adventures, toddler Ramses left in England. Husband Radcliffe Emerson's old friend Lady Baskerville fears a curse killed her husband Sir Henry, and soon engages the attentions of American Cyrus. The will funds continued excavation. But a lady dressed in white floats, flutters, spreads fear, and more death.
This is a series I've dipped into over the years, mostly out of order. In this second book of the series, Amelia and Emerson have been out of the Egyptologist game for a few years after the birth of their son, Ramses. They had no intention of returning so soon, but when Lady Baskerville comes to her door and begs them to finish the dig that has killed her husband, they have a hard time refusing. Once they get there, Amelia is more interested in figuring out whether Lord Baskerville was murdered or if there really is a curse that's been released by the excavation of the tomb.
I always enjoy these books. Amelia and her attitude are far ahead of their time, but I like the setting and there's always a colorful cast of characters and a little mystery to solve. Someday I hope to complete the whole series.
I read this for the following reading challenges:
Other reviews:
"I didn't like this book quite as much as the first, but I still enjoyed myself immensely. I remembered how much I like Amelia Peabody, but I had forgotten why. I knew she was a practical woman who had no qualms about taking charge but I forgot how often she messes things up." — Introverted Reader
"I was uncertain if I'd like the second book in the series, because how many books can you successfully base around a curse and a tomb? Well…given how many books are in this series, the answer is several, but that doesn't mean they're all gems. Like mummies, you find the servants as well as the kings. But this book is definitively up there with the mighty pharaohs!" — Strange & Random Happenstance
"A Curse of the Pharaohs is a fitting sequel to Crocodile on the Sandbank, and once again a real treat to listen to in audio with Rosenblat narrating. I am not normally one for reading series from the beginning but this is one instance when I strongly recommend you do so." — Booklover Book Reviews