2006: #16 – Blue Moon (Laurell K. Hamilton)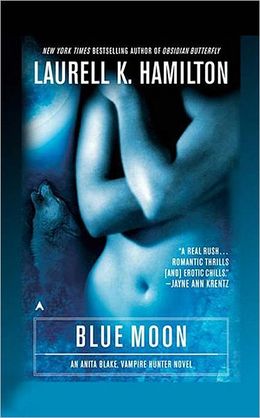 Blue Moon
by
Laurell K. Hamilton
Series:
Anita Blake #08
Published by
Berkley Books
on September 24, 2002
Genres:
fantasy
,
urban fantasy
Pages:
418


Also by this author:
Circus of the Damned
,
A Kiss of Shadows
Also in this series:
Circus of the Damned
,
The Lunatic Cafe
When she chose master vampire Jean-Claude over her ex-fiancé, alpha werewolf Richard Zeeman, Anita learned that sometimes love is not enough. But though she and Richard won't be walking down any aisles, she can't turn her back on him when he's arrested on a rape charge in Tennessee. Anita knows firsthand that Richard has the morals of a saint—or at least a boy scout. But his guilt or innocence is not the issue. He's behind bars, and in five days a full moon will rise…
Book #16 was Blue Moon, the 8th book in Laurel K. Hamilton's Anita Blake series.
First of all, yes, I have been reading a lot.
Second of all, I do enjoy these books. However, some of the focus on sex is getting a little out of hand. Especially in the one I'm reading now (though I guess I shouldn't talk about that one until I'm finished).
Book count: 16
Pages in book: 418
Page count: 6,667
Words in book: 155,027
Word count:1,847,135
1,000,000 words surpassed — 2/2/06