2021: #4 – Maybe You Should Talk to Someone (Lori Gottlieb)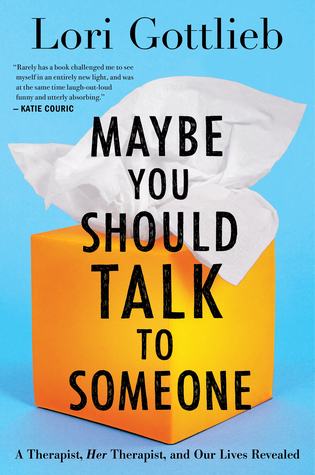 Maybe You Should Talk to Someone: A Therapist, Her Therapist, and Our Lives Revealed
by
Lori Gottlieb
Published by
Houghton Mifflin Harcourt
on April 2, 2019
Genres:
memoir
,
non-fiction
,
self help
Pages:
415


From a New York Times best-selling author, psychotherapist, and national advice columnist, a hilarious, thought-provoking, and surprising new book that takes us behind the scenes of a therapist's world -- where her patients are looking for answers (and so is she).

One day, Lori Gottlieb is a therapist who helps patients in her Los Angeles practice. The next, a crisis causes her world to come crashing down. Enter Wendell, the quirky but seasoned therapist in whose office she suddenly lands. With his balding head, cardigan, and khakis, he seems to have come straight from Therapist Central Casting. Yet he will turn out to be anything but.

As Gottlieb explores the inner chambers of her patients' lives -- a self-absorbed Hollywood producer, a young newlywed diagnosed with a terminal illness, a senior citizen threatening to end her life on her birthday if nothing gets better, and a twenty-something who can't stop hooking up with the wrong guys -- she finds that the questions they are struggling with are the very ones she is now bringing to Wendell.

With startling wisdom and humor, Gottlieb invites us into her world as both clinician and patient, examining the truths and fictions we tell ourselves and others as we teeter on the tightrope between love and desire, meaning and mortality, guilt and redemption, terror and courage, hope and change.

Maybe You Should Talk to Someone is revolutionary in its candor, offering a deeply personal yet universal tour of our hearts and minds and providing the rarest of gifts: a boldly revealing portrait of what it means to be human, and a disarmingly funny and illuminating account of our own mysterious lives and our power to transform them.
I don't think there was anything about this book I didn't like.
Gottlieb is a therapist who ended up there in a roundabout way. She started out a writer for TV, which then inspired her to pursue a medical career. But when she discovered that most medical specialties wouldn't allow her to really get to know her patients, nor continue to write, she found psychotherapy — a discipline that would allow her to scratch both those itches.
When we meet Gottlieb, she's been blindsided by her long-time boyfriend. He declares that he's no longer interested in having a child (her son) around and being a father again, so they break up. Gottlieb starts spiraling, caught between wanting to change his mind and bring him back and wanting to scream from the rooftops about what a jerk he is. When she can't find satisfaction from her friends and family, she decides she needs to get her own therapist to tell her how right she is and how wrong he is.
The book follows Gottlieb through her own therapy, but also through her treatment of 4 patients — an assholish TV writer, a woman who has been told she's terminally ill, an elderly woman who feels there's nothing left for her to live for, and a young woman who is afraid she is addicted to everything from alcohol to men to Gottlieb herself. (In case you are concerned, her patients give permission for her to use their stories, but details are changed and composites created.) Much like her patients, Gottlieb doesn't tell us everything about her life up-front. As the book goes on, more pieces of the puzzle are revealed, both by Gottlieb and the people she is treating.
I've seen some reviews asking "what's the point of this?" I think this book does a few important things. First, it normalizes therapy. These people are victims of horrific trauma or diagnosed with major personality disorders. They're just people. And honestly, I think everyone needs to go to therapy at least once in their life. Second, Gottlieb gives voice to the insecurities we feel when we take that step to begin therapy. How is this supposed to work? Where should I sit? Are they telling other people things about me? Am I too boring? Are my problems not big enough? Am I doing this wrong? From the other side of the couch, she is looking at us and saying "I am you, and I see you."
So if you read this and think "maybe I should talk to someone?" then the answer is YES. Please go talk to someone, and feel better.
I read this for the following reading challenges:
Other reviews:
"For me, the book was comforting and also a reminder of my own long therapy journey and how much good it did for me. It's not about therapists finding answers for us, it's about them helping us learn more of ourselves and help us with the process of change that happens all through our lives. Therapists are our guides when we feel lost with ourselves." — Introvert Enjoys Life
"Gottlieb is an engaging writer and easy to read, and I found her story fascinating. I also felt I learned a lot, and it made me think of my own issues and whether a professional ear might help." — The Book Stop
"As someone who has had therapy as part of my life since I was a child, it was amazing to see the progress and relatability of Gottlieb and her clients. Sometimes it is hard to see small changes in your own life, but as I read this, I connected with so many of the stories and struggles that were shared in such an approachable and real way." — Gen the Bookworm