2006: #26 – Judgment in Death (J.D. Robb)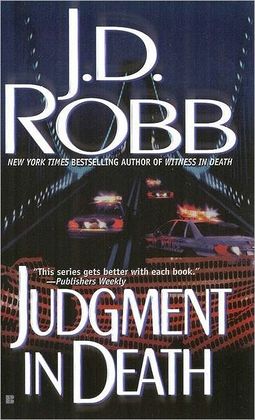 Judgment in Death
by
J.D. Robb
Series:
In Death #11
Published by
Berkley Books
on September 1, 2000
Genres:
romance
,
romantic suspense
Pages:
356


Also by this author:
Naked in Death
,
Immortal in Death
Also in this series:
Naked in Death
,
Immortal in Death
The latest romantic suspense novel featuring New York City police lieutenant Eve Dallas.When a cop killer cuts loose in a club called Purgatory, Eve Dallas descends into an underground criminal hell…In an uptown strip joint, a cop is found bludgeoned to death. The weapon's a baseball bat. The motive's a mystery. It's a case of serious overkill that pushes Eve Dallas straight into overdrive. Her investigation uncovers a private club that's more than a hot spot. Purgatory's a last chance for atonement where everyone is judged. Where your ultimate fate depends on your most intimate sins. And where one cop's hidden secrets are about to plunge innocent souls into vice-ridden damnation....
Book #26 was Judgment in Death, the 11th book in J.D. Robb's In Death series.
These seemed like good travel/sitting-around-my-mother's-house books. I'm not sure how Robb manages to keep things fresh after 15 books.
Book count: 26
Pages in book: 368
Page count: 10,682
Words in book: 105,821
Word count:3,023,569