2018: #30 – Educated (Tara Westover)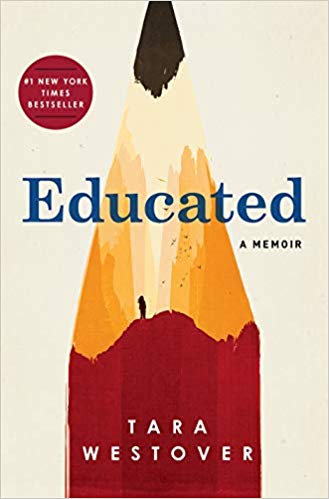 Educated
by
Tara Westover
Published by
Random House
on February 20, 2018
Genres:
memoir
Pages:
334


An unforgettable memoir in the tradition of The Glass Castle about a young girl who, kept out of school, leaves her survivalist family and goes on to earn a PhD from Cambridge University

Tara Westover was 17 the first time she set foot in a classroom. Born to survivalists in the mountains of Idaho, she prepared for the end of the world by stockpiling home-canned peaches and sleeping with her "head-for-the-hills bag". In the summer she stewed herbs for her mother, a midwife and healer, and in the winter she salvaged in her father's junkyard.

Her father forbade hospitals, so Tara never saw a doctor or nurse. Gashes and concussions, even burns from explosions, were all treated at home with herbalism. The family was so isolated from mainstream society that there was no one to ensure the children received an education and no one to intervene when one of Tara's older brothers became violent.

Then, lacking any formal education, Tara began to educate herself. She taught herself enough mathematics and grammar to be admitted to Brigham Young University, where she studied history, learning for the first time about important world events like the Holocaust and the civil rights movement. Her quest for knowledge transformed her, taking her over oceans and across continents, to Harvard and to Cambridge. Only then would she wonder if she'd traveled too far, if there was still a way home.

Educated is an account of the struggle for self-invention. It is a tale of fierce family loyalty and of the grief that comes with severing the closest of ties. With the acute insight that distinguishes all great writers, Westover has crafted a universal coming-of-age story that gets to the heart of what an education is and what it offers: the perspective to see one's life through new eyes and the will to change it.
Tara Westover grew up in rural Idaho, the youngest daughter of a somewhat fundamentalist (heavy on scripture but no plural wives) Mormon family. Following the FBI's raid on Ruby Ridge in 1992, her father also completed his plunge into becoming a paranoid survivalist, complete with burying gas and guns on their land so they would be ready when the FBI came to take them away.
But that's just a little bit of the story. Tara had no birth certificate, no vaccinations, no formal education, and really no home-schooling. Her parents' idea of home-schooling was not interfering too much if they found a textbook to read. They wouldn't use doctors or hospitals voluntarily, even under the most dire of circumstances. The book documents many times when one of them could have easily died.
The family was also quite abusive. Not only did her father have a penchant for forcing them to take on dangerous tasks, but older brother Shawn was downright dangerous, possibly as a result of a serious head injury he suffered while working in the family junkyard. I was legitimately scared for her safety, several times.
Despite all this, Tara manages to make it out, not only attending BYU (thanks to barely passing the ACT, some creative fudging of her educational background, and the kindness of a church leader), but then going on to further education at Oxford and Harvard. It really is a quite amazing story about how someone can figure out how to educate themselves, even after years of mis-education.
Do I think the book is 100% true? Probably not. I'm sure there is some embellishment, either purposeful or because of the infallibility of memory. But overall I don't think it really matters. This is a great story of perseverance and survival.
Other reviews:
"While I loved the story and Tara's love for schooling and and furthering herself through education, I thought parts of the book were needlessly pretentious. I'm not sure if this was done to create a more dramatic contrast between herself, now an educated woman, and her family, but it was a little off-putting. Regardless, I still enjoyed the book immensely." – Thrifty Bibliophile
"Despite the control exerted over her by most of her family, the author manages to get out, get an education, find love, travel the world, and, most importantly, find herself. I hope she continues to talk her life out with counselors, friends, and family who support her. I hope she continues to contribute as her's is an important voice." – Helen's Book Blog
"But this memoir is ultimately hopeful in testifying how individuals can rise above their circumstances and learn to speak for themselves – even if it means they must leave everything they've known and believed behind." – Lonesome Reader