2005: #20 – G is for Gumshoe (Sue Grafton)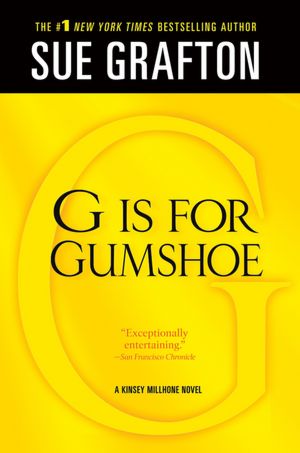 G is for Gumshoe
by
Sue Grafton
Series:
Kinsey Millhone #07
Published by
Henry Holt and Co.
on May 15th 1990
Genres:
private investigator
Pages:
227


Also by this author:
D is for Deadbeat
,
E is for Evidence
Also in this series:
D is for Deadbeat
,
E is for Evidence
Good and bad things seem to be coming in threes for Kinsey Millhone: on her thirty-third birthday she moves back into her renovated apartment, gets hired to find an elderly lady supposedly living in the Mojave Desert by herself, and makes the top of ex-con Tyrone Patty's hit list. It's the last that convinces Kinsey even she can't handle whoever's been hired to whack her, and she gets herself a bodyguard: Robert Dietz, a Porsche-driving P.I. who takes guarding Kinsey's body very seriously. With Dietz watching her for the merest sign of her usual recklessness, Kinsey plunges into her case. And before it's over, she'll unearth the gruesome truth about a long-buried betrayal and, in the process, come fact-to-face with her own mortality. . .
Book #20 was G is for Gumshoe, the 7th book in Sue Grafton's Kinsey Millhone/Alphabet series.
This one was a big improvement over the last. Not much more to say than that… Although, I think at this rate, maybe 100 books in a year is a better goal for me.
Book count: 20/50 — 40%
Page count: 5,928/15,000 — 39.52%