2018: #2 – Raising a Healthy, Happy Eater (Nimali Fernando, MD, MPH & Melanie Potock, MA, CCC-SLP)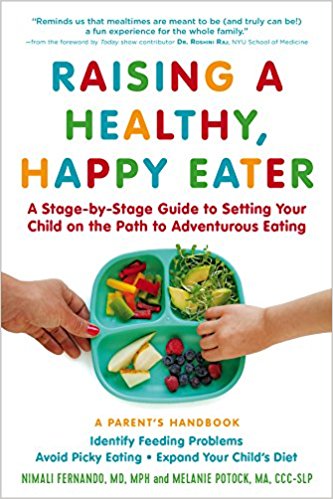 Raising a Healthy, Happy Eater: A Parent's Handbook: A Stage-by-Stage Guide to Setting Your Child on the Path to Adventurous Eating
by
Melanie Potock
,
Nimali Fernando
Published by
The Experiment
on October 20th 2015
Genres:
non-fiction
,
parenting
Pages:
288


Expert advice from a feeding therapist and a "pediatrician in the kitchen" on teaching children healthy eating habits from the start—or after trouble starts

Pediatrician Nimali Fernando and feeding therapist Melanie Potock specialize in showing parents the way to joyful, nutritious mealtimes. Their proven strategies direct families past every roadblock, whether selective eating, different parenting styles, special needs, or medical issues such as sensory disorders.

In Raising a Healthy, Happy Eater, they offer clear guidance for every stage of a child's development, from birth to elementary school:Steps to encourage self-feeding, and the importance of letting little ones get messyTips on how to ditch unhealthy kids' menus and kids' mealsRecipes designed especially for young taste budsHelpful insights on the sensory system, managing mealtime behaviors, healthy eating around the world—and much more.The authors also highlight seven qualities of good parenting—being joyful, compassionate, brave, patient, consistent, proactive, and mindful—and show how valuable they are at mealtimes and beyond.
I read this because I have an extraordinarily picky 4 year old, but honestly not much of it stuck with me. It was a lot about what happens in the specialist's office when they help children there, and nothing new for me at home that I hadn't already read about.
Do yourself a favor and pick up Ellyn Satter's book instead.
Other reviews:
"Food and mealtimes have, at times, been stressful and a point of conflict for me and my son. This book has helped me relax and feel more confident in my approach. I'm not worried about my son in the long term because I'm committed to keep trying, and I know what resources I can turn to for help." — Power of Moms