2005: #9 – E is for Evidence (Sue Grafton)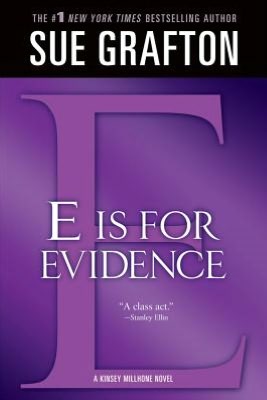 E is for Evidence
by
Sue Grafton
Series:
Kinsey Millhone #05
Published by
St. Martin's Paperbacks
on November 29th 2005
Genres:
private investigator
Pages:
320


Also by this author:
D is for Deadbeat
,
F is for Fugitive
Also in this series:
D is for Deadbeat
,
F is for Fugitive
Kinsey Millhone, P.I. is a 32-year-old, twice-divorced ex-cop with an irreverent, wise-cracking style reminiscent of Philip Marlowe - and a great pair of legs - who piles her trade in the small Southern Californian town of Santa Theresa.Make no mistake about it, Kinsey Millhone is one tough cookie. When a routine insurance claim she's investigating turns into non-routine trouble - someone has put $5,000 in her usually not-too-flush checking account and made it look like she's on the take - Kinsey sets out to discover who has set her up and why.

The trail of evidence leads to the wealthy Wood family, which includes the three quirky sisters Olive, Ash, and Ebony. But she's not counting on the involvement of her long-departed ex-husband #2, who's gorgeous, seductive and also a junkie. And she's certainly not counting on murder . . .
Okay, I was a little off in my time estimate, but I did have book #9 finished by 9:00 this morning. The book was E is for Evidence, the fifth book in Sue Grafton's Kinsey Millhone/Alphabet series.
This book is a little different than the others, because Kinsey is basically working to clear herself. I can give it a thumbs up.
On to the next book!
Page count: 2,755/15,000