2020: #17 – Winter (Marissa Meyer)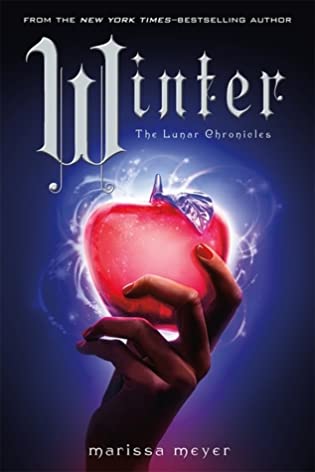 Winter
by
Marissa Meyer
Published by
Feiwel & Friends
on November 10, 2015
Genres:
y/a science fiction/dystopian
Pages:
827


Also by this author:
Cinder
,
Scarlet
,
Cress
Princess Winter is admired for her grace, kindness and beauty, despite the scars on her face. She's said to be even more breath-taking than her stepmother, Queen Levana...

When Winter develops feelings for the handsome palace guard, Jacin, she fears the evil Queen will crush their romance before it has a chance to begin.

But there are stirrings against the Queen across the land. Together with the cyborg mechanic, Cinder, and her allies, Winter might even find the power to launch a revolution and win a war that's been raging for far too long.

Can Cinder, Scarlet, Cress, and Winter claim their happily ever afters by defeating Levana once and for all?
Blogger note: Book #16 was a reread of The Hound of the Baskervilles by Arthur Conan Doyle.
This is the final book in Meyer's Lunar Chronicles series, which is a fun series. The primary character in each book is very loosely based on a fairy tale character. First we had Cinder (Cinderella), then Scarlet (Little Red Riding Hood) and Cress (Rapunzel). Princess Winter of Luna is our Snow White, destined to be doomed by an evil stepmother's apple.
It may seem odd that this last book has a primary character that is a member of Luna's royal family. After all, our crew's mission is the overthrow of Luna's queen. But Winter isn't really a willing member of the family. She is the queen's stepdaughter, and to make things even more difficult, she also refuses the use her Lunar powers to manipulate others. Unfortunately, the refusal to use her gift is causing some unusual side effects to her mental state, which doesn't help her position at court.
In the meantime, Cinder and her crew are plotting their infiltration of Luna, with the goal of starting a revolution and revealing that Cinder is the rightful queen. Winter becomes an unlikely ally in their fight.
This was a very good wrap-up of the series. There is a lot of action, but it all has a purpose in the story. I didn't feel like there was anything extra that didn't need to be there. We also get a good follow-up with everyone at the end. This was one of the better YA series I've read in recent years.
Other reviews:
"I liked the politics and the plot. Cinder talks about mercy and fair trials because killing "bad" guys just leads to more tyranny and mistrust. That was a powerful moment." – Books: A True Story
"The other thing I will say about the book is that in spite of a backdrop of revolution, of serious action…every one of our beloved characters develops in this book and becomes stronger. This was what made the book a success to me – not just the action and knowing what happens, but that each one finds something in themselves, despite mistakes and challengers, that changes them into something more than they were in previous books." — Mostly YA Lit
"Overall, there's nothing that I can fault. I absolutely loved this final book and the whole series in general. Winter definitely tops all of the sci-fi books that I've read this year, and I'm probably going to go and reread the whole series over again right now." – Reading with Jenna