2005: #8 – One for the Money (Janet Evanovich)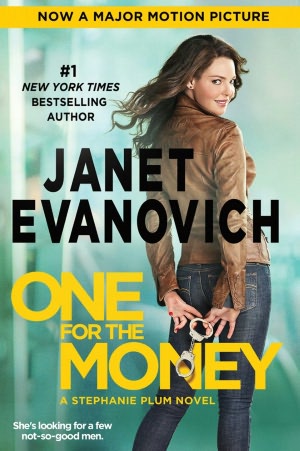 One for the Money
by
Janet Evanovich
Series:
Stephanie Plum #01
Published by
St. Martin's Griffin
Genres:
general mystery
Pages:
320


Also by this author:
Two for the Dough
,
Three to Get Deadly
,
Four to Score
,
High Five
,
Hot Six
Also in this series:
Two for the Dough
,
Three to Get Deadly
,
Four to Score
,
High Five
,
Hot Six
ONE FINE MESS Welcome to Trenton, New Jersey, home to wiseguys, average Joes, and Stephanie Plum, who sports a big attitude and even bigger money problems (since losing her job as a lingerie buyer for a department store). Stephanie needs cash-fast-but times are tough, and soon she's forced to turn to the last resort of the truly desperate: family...

ONE FALSE MOVE Stephanie lands a gig at her sleazy cousin Vinnie's bail bonding company. She's got no experience. But that doesn't matter. As does the fact that the bail jumper in question is local vice cop Joe Morelli. From the time he first looked up her dress to the time he first got into her pants, to the time Steph hit him with her father's Buick, M-o-r-e-l-l-i has spelled t-r-o-u-b-l-e. And now the hot guy is in hot water-wanted for murder...

ONE FOR THE MONEY Abject poverty is a great motivator for learning new skills, but being trained in the school of hard knocks by people like psycho prizefighter Benito Ramirez isn't. Still, if Stephanie can nab Morelli in a week, she'll make a cool ten grand. All she has to do is become an expert bounty hunter overnight-and keep herself from getting killed before she gets her man...
Book #8 was One for the Money, Janet Evanovich's first book in her Stephanie Plum, Bounty Hunter! series. This was yet another quick read, especially when you're sick and don't have anything better to do than lay around reading and blowing your nose all day.
I was turned on to these books by my mother-in-law, who really enjoys them. This is the first I've read, and I'm happy to add them to my "detective" story collection. Quite entertaining. Stephanie is a fun character.
Since the next book I'm reading is only a 200 page paperback, I expect to have it finished by, oh, 4 this afternoon. At this rate, I'm going to hit 50 before summer! Which is good, since I have 207 more unread books on my bookshelf.
Page count: 2,556/15,000