2006: #13 – Bloody Bones (Laurell K. Hamilton)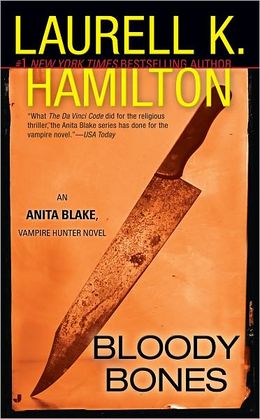 Bloody Bones
by
Laurell K. Hamilton
Series:
Anita Blake #05
Published by
Penguin
on 1996
Genres:
fantasy
,
urban fantasy
Pages:
370


Also by this author:
Circus of the Damned
,
A Kiss of Shadows
Also in this series:
Circus of the Damned
,
The Lunatic Cafe
In Laurell K. Hamilton's New York Times bestselling novels, Anita Blake, vampire hunter and animator, takes a bite out of crime-of the supernatural kind. But even someone who deals with death on a daily basis can be unnerved by its power...

When Branson, Missouri, is hit with a death wave-four unsolved murders-it doesn't take an expert to realize that all is not well. But luckily for the locals, Anita is an expert-in just the kinds of preternatural goings-on that have everyone spooked. And she's got an "in" with just the kind of creature who can make sense of the slayings: a sexy master vampire known as Jean Claude.
Book #13 was Bloody Bones, the 5th book in Laurel K. Hamilton's Anita Blake series.
First of all, yes, I have been reading a lot.
Second of all, I do enjoy these books. However, some of the focus on sex is getting a little out of hand. Especially in the one I'm reading now (though I guess I shouldn't talk about that one until I'm finished).
Book count: 13
Pages in book: 336
Page count: 5,481
Words in book: 126,043
Word count:1,425,455