2006: #9 – Memoirs of a Geisha (Arthur Golden)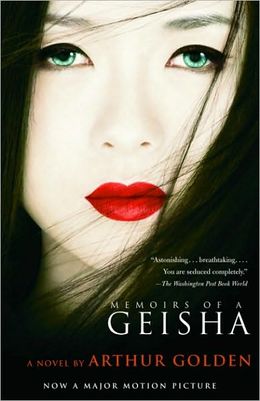 Memoirs of a Geisha
by
Arthur Golden
Published by
Vintage
on 1997
Genres:
hf - WWII
,
historical fiction
Pages:
434


Nitta Sayuri tells the story of her life as a geisha. In Memoirs of a Geisha, we enter a world where appearances are paramount; where a girl's virginity is auctioned to the highest bidder; where women are trained to beguile the most powerful men; and where love is scorned as illusion. Sayuri's story begins in a poor fishing village in 1929, when, as a nine-year-old with unusual blue-gray eyes, she is taken from her home and sold into slavery to a renowned geisha house. Through her eyes, we see the decadent heart of Gion - the geisha district of Kyoto - with its marvelous teahouses and theaters, narrow back alleys, ornate temples, and artists' streets. And we witness her transformation as she learns the rigorous arts of the geisha: dance and music; wearing kimono, elaborate makeup and hair; competing with a jealous rival for men's solicitude and the money that goes with it. But as World War II erupts and the geisha houses are forced to close, Sayuri, with little money and even less food, must reinvent herself all over again to find a rare kind of freedom on her own terms. Memoirs of a Geisha is a book of nuance and vivid metaphor, of memorable characters rendered with humor and pathos. And though the story is rich with detail and a vast knowledge of history, it is the transparent, seductive voice of Sayuri that the reader remembers.
Book #9 was Memoirs of a Geisha, by Arthur Golden.
I was expecting a lot from this book, and it delivered. I'm now looking forward to seeing the movie, and I hope they didn't screw it up.
Book count: 9
Pages in book: 434
Page count: 4,172
Words in book: 186,399
Word count:1,001,379
1,000,000 words surpassed — 2/2/06