2006: #65 – Danse Macabre (Laurell K. Hamilton)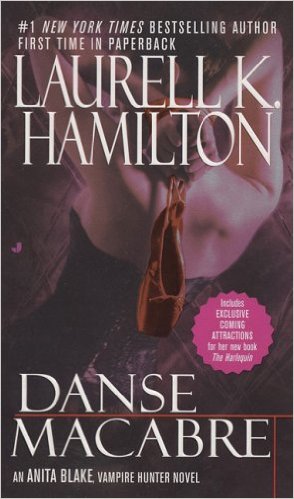 Danse Macabre
Anita Blake #13
Urban Fantasy
Jove Publications
2007
560

"It was the middle of November. I was supposed to be out jogging, but instead I was sitting at my breakfast table talking about men, sex, werewolves, vampires, and that thing that most unmarried but sexually active women fear most . . ."
These days, Anita Blake is less interested in vampire politics than in an ancient, ordinary dread she shares with women down the ages: she may be pregnant. And, if she is, whether the father is a vampire, a werewolf, or someone else entirely, she knows perfectly well that being a Federal Marshal known for raising the dead and being a vampire executioner, is no way to bring up a baby.
Book #65 was Danse Macabre, the 13th book in Laurell K Hamilton's Anita Blake series.
The only problem I had with this book is that all of the conflict was basically internal. Sure, there were a lot of power struggles with various other vampires, but no big bad guy. I miss the big bad guy. The sex in this one didn't bother me as much — I think she managed to tone it down a bit.
Book count: 65
Pages in book: 496
Page count: 26,503
Words in book: 250,818
Word count: 7,719,851
1,000,000 words surpassed — 2/2/06
2,000,000 words surpassed — 2/14/06
10,000 pages surpassed — 3/10/06
3,000,000 words surpassed — 3/16/06
4,000,000 words surpassed — 4/3/06
5,000,000 words surpassed — 5/30/06
50 books surpassed — 6/12/06
20,000 pages surpassed — 6/29/06
6,000,000 words surpassed — 6/29/06
7,000,000 words surpassed — 7/21/06