2008: #103 – The Quickie (James Patterson)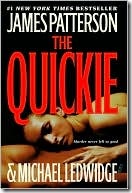 Book #103 was The Quickie by James Patterson and Michael Ledwidge.  The back of the book reads:
Lauren Stillwell is not your average damsel in distress. When the NYPD cop discovers her husband leaving a hotel with another woman, she decides to beat him at his own game. But her revenge goes dangerously awry, and she finds her world spiraling into a hell that becomes more terrifying by the hour.
In a further twist of fate, Lauren must take on a job that threatens everything she stands for. Now, she's paralyzed by a deadly secret that could tear her life apart. With her job and marriage on the line, Lauren's desire for retribution becomes a lethal inferno as she fights to save her livelihood–and her life.
Patterson takes us on a twisting roller-coaster ride of thrills in his most gripping novel yet. This story of love, lust and dangerous secrets will have readers' hearts pounding to the very last page.
Am I the only one who thinks Patterson falls ridiculously flat when he tries to write from a woman's point of view? I didn't believe for a second that Lauren was a competent NYPD detective. Her narration is flighty and shallow and exaggerated.  She sleeps with a man once, this so-called quickie, but in narration she treats it like some long-established affair. And the writing here is ridiculously bad, something I would expect from a first-time author, not someone with 50ish books under his belt. The amount of "quoted words" drove me crazy. The saddest thing here is that the story had real promise, but very little is fleshed out.  Instead we have a book full of shallow, selfish, unlikable characters and Patterson's now-trademark white space.  If you have ever been a Patterson fan, do yourself a favor and skip this one.  If I hadn't been stuck in a car for 7 hours, I wouldn't have bothered.
Page count: 274 | Word count: 61,311
2007: Callander Square (Anne Perry)
2006: Velocity (Dean Koontz)