2009: #40 – Undead and Unappreciated (MaryJanice Davidson)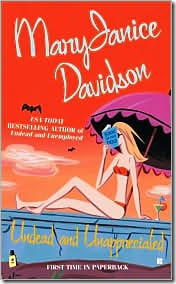 Book #40 was Undead and Unappreciated, MaryJanice Davidson's third Queen Betsy book.  The back of the book reads:
Reluctant vampire queen Betsy Taylor may rule the topsy-turvy world of the undead, but now Betsy's discovered that she has a long-lost half-sister who's the devil's daughter–and destined to rule the underworld.
I found this third "Undead" book to be rather anti-climatic… or maybe non-climatic would be a better word.  When I got to the end, all I could think was "That's it?  Am I missing pages? Were chapters left out of my ebook?" Not a lot happens here. Basically, Betsy finds out she has a half-sister who's really the daughter of Satan, goes a little crazy after reading the Book of the Dead for too long and has to apologize to everyone, has one confrontation where she finds out some important facts about her new half-sister, and finally admits that she loves Sinclair.  And… that's it. Maybe we find out more about this prophecy with her sister in the next book?  All I know is that this one was pretty lacking.
Page count: 304 | Word count: 46,962
2008: 20th Century Ghosts (Joe Hill)
2007: Plum Lovin' (Janet Evanovich)
2006: All the Flowers Are Dying (Lawrence Block)
2005: A Kiss of Shadows (Laurell K. Hamilton)
Used in these Challenges: The Countdown Challenge; 100+ Reading Challenge 2009; 2009 eBook Challenge; The 999 Challenge;