2010: #61 – From Dead to Worse (Charlaine Harris)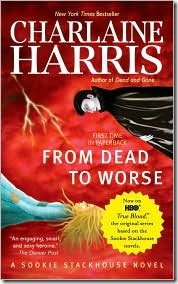 Book #61 was From Dead to Worse, the eighth book in the Sookie Stackhouse series by Charlaine Harris.  The back of the book reads:
After the natural disaster of Hurricane Katrina and the manmade explosion at the vampire summit, everyone—human and otherwise—is stressed, including Louisiana cocktail waitress Sookie Stackhouse, who is trying to cope with the fact that her boyfriend Quinn has gone missing.

It's clear that things are changing—whether the weres and vamps of her corner of Louisiana like it or not. And Sookie—Friend to the Pack and blood-bonded to Eric Northman, leader of the local vampire community—is caught up in the changes.

In the ensuing battles, Sookie faces danger, death, and once more, betrayal by someone she loves. And when the fur has finished flying and the cold blood finished flowing, her world will be forever altered.
Lots of moving and shaking in this book, both for Sookie and for the supernatural world in general.  I really like how Harris has used Hurricane Katrina to really drive the overall story arc of the series.  She could have easily just mentioned it and moved on, but instead she has shown us some far-reaching implications. There's no overall plot to this book, but a lot of loose ends are tied up (or are at least an attempt is made). Sookie also discovers a branch of the family she didn't know about. I read this in about a day, so I must have been pleased.
Other reviews:
REVIEW: From Dead To Worse by Charlaine Harris | Dear Author
From Dead To Worse (True Blood) by Charlaine Harris : Book Reveiw
Darque Reviews: From Dead to Worse by Charlaine Harris
Review of "From Dead to Worse" by Charlaine Harris « Rhapsody in Books
Charlaine Harris – From Dead to Worse « Fyrefly's Book Blog
Page count: 336 | Approximate word count: 92,336
2009: City of Thieves (David Benioff)
2008: Full Tilt (Janet Evanovich)
2007: The Color of Magic (Terry Pratchett)
2006: City of Bones (Michael Connelly)
2005: J is for Judgment (Sue Grafton)
Used in these Challenges: Sookie Reading Challenge; Countdown Challenge 2010; 2010 100+ Reading Challenge; E-book Reading Challenge; Pages Read Challenge Season 2;