2008: Challenges – 2009 eBook Reading Challenge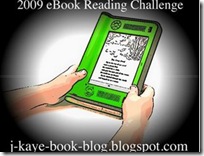 J.Kaye's sucked me into another one! The 2009 eBook Reading Challenge is for readers who love eBooks or would like to explore more in 2009. The guidelines are:
You can join anytime as long as you don't start reading to your books prior to 2009.
Read 10 eBooks in 2009.
Overlaps with other challenges are fine.
You do not have to list your books ahead of time. If you decide to, you can change them as you go. Feel free to remove or add titles as needed.
My list will be here (last updated 4/14/09):