2008: #55 – Beautiful Lies (Lisa Unger)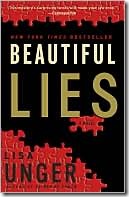 Book #55 was Beautiful Lies by Lisa Unger.  The back of the book reads:
Ridley Jones has been living a lie. A mysterious package showed up on her doorstep one morning and the beautiful lie she used to call her life was over. Suddenly, everyone in she knows feels like a stranger. She has no idea who's on her side and who has something to hide—even her new lover, Jake, might have disturbing secrets of his own.

Now she's determined to find out the truth, even if it means risking her life. Ridley embarks on a breathtaking pursuit where every choice she makes sets off a whirlwind of consequences that are as frightening as they are shocking.
I liked this a lot. It starts out with a glimpse into the past and a glimpse into the future that are just enough to whet your appetite and start you reading. The suspense and the never-ending list of unanswered questions keep you reading until the bitter(sweet?) end. I liked Ridley and agreed completely with her "no regrets" philosophy of life. Jake was a good counterpart to her, even when you weren't sure if he was a good guy or a bad guy. The only thing I found a little silly was the "interview" with Ridley in the discussion guide. I definitely plan to read more of Unger's books.
Page count: 372 | Approximate word count: 93,000
2007: Midnight in Death (J.D. Robb)
2006: Proof (Dick Francis)
2005: Seven Up (Janet Evanovich)