2008: #101 – Deja Dead (Kathy Reichs)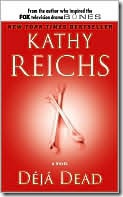 Book #101 was Déjà Dead, the first Temperance Brennan book by Kathy Reichs.  The back of the book reads:
It's June in Montreal, and Dr. Temperance Brennan, who has left a shaky marriage back home in North Carolina to take on the challenging assignment of Director of Forensic Anthropology for the province of Quebec, looks forward to a relaxing weekend in beautiful Quebec City. First, though, she must stop at a newly uncovered burial site in the heart of the city. The remains are probably old and only of archeological interest, but Tempe must make sure they're not a case for the police.
One look at the decomposed and decapitated corpse, stored neatly in plastic bags, tells her she'll spend the weekend in the crime lab. Something about the crime scene is familiar to Tempe: the stashing of the body parts; the meticulous dismemberment. As a pattern continues to emerge, Tempe calls upon all her forensic skills, including bone, tooth/dental, and bitemark analysis and x-ray microflourescence to convince the police that the cases are related and to try to stop the killer before he strikes again.
I'm a fan of the tv show Bones, and have had this series recommended to me numerous times, so I was looking forward to this book!  I already knew that the tv show was only loosely based on the books, so I wasn't surprised when I found out the book Tempe was older than the tv one, and that there is no Booth.  Still, my knowledge of the show created a sort of disconnect for me, and I found myself reading this as though the book Tempe was an older version of the tv Tempe.
All of that aside, I did enjoy this, though I didn't fall in love with it.  It took me a while to warm up to Tempe, though I enjoyed the emotion she showed that the tv Tempe is often missing.  There's a lot of detail in this book so it's not for the squeamish, but the plot is solid and keeps you guessing right up to the very end.  It's definitely a series I will read more of.
Page count: 532 | Word count: 133,741
2007: Night Pleasures (Sherrilyn Kenyon)
2006: Vital Signs (Robin Cook)