2008: #58 – In the Midst of Death (Lawrence Block)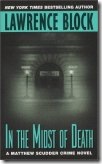 Book #58 was In the Midst of Death, the second (or third, I'm not really sure) book in Lawrence Block's Matthew Scudder series.  The back of the book reads:
Bad cop Jerry Broadfield didn't make any friends on the force when he volunteered to squeal to an ambitious d.a. about police corruption. Now he's accused of murdering a call girl. Matthew Scudder doesn't think Broadfield's a killer, but the cops aren't about to help the unlicensed p.i. prove it — and they may do a lot worse than just get in his way.
I liked this soooooooo much more than When the Sacred Ginmill Closes. I like how Block doesn't really narrate the story… he lets the characters tell you what's going on through the dialogue. There's no futzing around with pages of background story and set-up. The book does show its age at some points, with mentions of $20/week rent (in New York City!?) and Scudder's reliance on pay phones, but it's easy enough to look past. I guessed the bad guy, but not long before Scudder did. A nice, quick read.
Page count: 185 | Word count: 46,971
2007: O is for Outlaw (Sue Grafton)
2006: Fatal (Michael Palmer)
2005: Ten Big Ones (Janet Evanovich)