2008: Challenges – A-Z Reading Challenge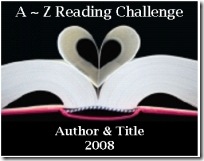 Requirements:
align the author's last name or the title of a book (excluding "the", "a", etc.) with its corresponding letter in the alphabet
enter a different book for each author and title (total of 52 books)
complete the alphabet lists anyway that suits your fancy
complete the challenge in the year 2008
enjoy the experience!
Join at http://a-zreadingchallenge.blogspot.com/!
Update: I had to change some entries on the list… I had some books listed for both the author and the title, and that's against the rules!
last updated: 9/3/08
Titles:
The Bone Garden (Tess Gerritsen)
Caught Stealing (Charlie Huston)
Dead Witch Walking (Kim Harrison)
Envy (Kathryn Harrison)
The Friday Night Knitting Club (Kate Jacobs)
Gone (Lisa Gardner)
How I Live Now (Meg Rosoff)
The Ice Queen (Alice Hoffman)
Lord John and the Private Matter (Diana Gabaldon)
Midnight Rain (Holly Lisle)
Nineteen Minutes (Jodi Picoult)
One Mississippi (Mark Childress)
Plum Lucky (Janet Evanovich)
Relic (Douglas Preston & Lincoln Child)
Sharp Teeth (Toby Barlow)
Triptych (Karin Slaughter)
The Unlikely Spy (Daniel Silva)
The Whole Truth (David Baldacci)
Authors:
Brown, Sandra (Mirror Image, A Treasure Worth Seeking)
Clark, Mary Higgins (I Heard That Song Before)
Davidson, MaryJanice (Undead and Unwed)
Evanovich, Janet (Fearless Fourteen)
Francis, Dick (Driving Force)
Garwood, Julie (Heartbreaker)
Hill, Joe (20th Century Ghosts)
Johansen, Iris (Dead Aim)
Kava, Alex (Whitewash)
Liebman, Ron (Death by Rodrigo)
Moore, Christopher (A Dirty Job)
O'Reilly, Bill (Those Who Trespass)
Peters, Elizabeth (The Copenhagen Connection)
Quick, Amanda (The Paid Companion)
Rankin, Ian (Exit Music)
Suri, Manil (The Death of Vishnu)
Unger, Lisa (Beautiful Lies)
von Ditfurth, Christian (A Paragon of Virtue)
Wambaugh, Joseph (Hollywood Crows)
Young, Karen (Never Tell)