2008: #59 – Driving Force (Dick Francis)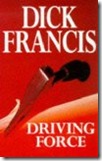 Book #59 was Driving Force by Dick Francis.  The back of the book reads:
Transporting racehorses to the course is big business for ex-jockey Freddie Croft. But when a driver breaks a cardinal rule and picks up a hitchhiker, the results are fatal…for the hitchhiker. Freddie knows that a corpse is bad for business, especially when its trail leads to corpse number two — and to strange nighttime stalkers and unseen conspirators who are weaving a web of deceit and danger that Freddie might never escape….
I've yet to read a Dick Francis book I didn't enjoy. His leading men all tend to be kind of the same guy, but it's a character that works. Freddie Croft is tough, but not too tough… smart, but not too smart.. and somewhat of a reluctant ladie's man. I always find myself picturing Francis's leading men as the Daniel Craig version of James Bond.
But enough about Freddie! The story here is pretty solid and interesting, even to someone who doesn't know patooie about horse-racing. Everything is from Freddie's point of view… there are no sneak peeks into the mind of the bad guys or what's happening while Freddie is elsewhere. I found that quite refreshing. I think too many suspense novels fall into that multiple point-of-view trap and it takes something away from the story. I found myself trusting the people Freddie trusted and feeling ambivalent about those he wasn't sure of, and I think it added that extra zing of emotion to the big reveal at the finish. I highly recommend Dick Francis if you're looking for something a little different from today's usual mystery/suspense story.
Page count: 318 | Approximate word count: 73,560
2007: Strange Candy (Laurell K. Hamilton)
2006: The Forgotten (Faye Kellerman)
2005: Eleven on Top (Janet Evanovich)