2008: Challenges – Daring Book Challenge Master List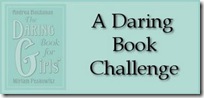 This long, unwieldy list goes along with the Daring Book Challenge and is my master list for the 4th tract, READ THEM ALL.  I'll be crossing off books as I read them!  If I've written a review, it will be linked.
The (L) is a note to myself that my local library has the book. (O) means I own it already.
Last updated: 4/3/09
20+ Girl Classics
A Wrinkle in Time – Madeleine L'Engle (L)
Anne of Green Gables – L.M. Montgomery
Emily of New Moon – L.M. Montgomery
Behind Rebel Lines – Seymour Reit (L)
Bridge to Terabithia – Katherine Paterson (L)
Caddie Woodlawn – Carol Ryrie Brink (L)
Magical Melons – Carol Ryrie Brink
Charlotte's Web – E.B. White
The Famous Five series – Enid Blyton
Five Go Adventuring Again
Five Run Away Together
Five Go to Smuggler's Top
Five Go Off in a Caravan
Five On Kirrin Island Again
Five Go Off to Camp
Five Get Into Trouble
Five Fall Into Adventure
Five On a Hike Together
Five Have a Wonderful Time
Five Go Down to the Sea
Five Go to Mystery Moor
Five Have Plenty of Fun
Five On a Secret Trail
Five Go to Billycock Hill
Five Get Into a Fix
Five On Finniston Farm
Five Go to Demon's Rocks
Five Have a Mystery to Solve
Five Are Together Again
From the Mixed-Up Files of Mrs. Basil E. Frankweiler – E.L. Konigsburg (L)
Harriet the Spy – Louise Fitshugh
The Vesper Holly series – Lloyd Alexander
The Illyrian Adventure (L)
The El Dorado Adventure (L)
The Drackenberg Adventure (L)
The Jedera Adventure (L)
The Philadelphia Adventure (L)
The Xanadu Adventure (L)
The Little Princess – Frances Hodgson Burnett (L)
The Secret Garden – Frances Hodgson Burnett (O)
Keep Climbing, Girls – Beah H. Richards (L)
Little Women – Louisa May Alcott
Lizzie Bright and the Buckminster Boy – Gary Schmidt (L)
Mandy – Julie Andrews (L)
Matilda – Roald Dahl (L)
The BFG – Roald Dahl (L)
Miss Happiness and Miss Flower – Rumer Godden
Pippi Longstocking – Astrid Lindgren (L)
Ramona series – Beverly Cleary
Beezus and Ramona

Ramona the Pest

Ramona the Brave

Ramona and Her Father

Ramona and Her Mother

Ramona and Her Friends

Ramona Quimby, Age 8

Ramona Forever

Ramona's World
Other Favorites
Alice's Adventure in Wonderland – Lewis Carroll (L)
Through the Looking Glass – Lewis Carroll (L)
Amazing Grace – Mary Hoffman (L)
All of a Kind Family – Sydney Taylor (L)
The Borrowers – Mary Norton
Call of the Wild – Jack London
The Chronicles of Narnia – C.S. Lewis
The Magician's Nephew

The Lion, the Witch and the Wardrobe

The Horse and his Boy

Prince Caspian

The Voyage of the Dawn Treader

The Silver Chair

The Last Battle
The Good Earth – Pearl S. Buck (L)
Great Expectations – Charles Dickens (L)
Harry Potter series – J.K. Rowling
Harry Potter and the Sorcerer's Stone

Harry Potter and the Chamber of Secrets

Harry Potter and the Prisoner of Azkaban

Harry Potter and Goblet of Fire

Harry Potter and the Order of the Phoenix
The Hobbit – J.R.R. Tolkien (O)
The Lord of the Rings Trilogy – J.R.R. Tolkien
The Fellowship of the Ring (O)
The Two Towers (O)
The Return of the King (O)
The Hoboken Chicken Emergency – Daniel Pinkwater (L)
Island of the Blue Dolphins – Scott O'Dell (L)
Robinson Crusoe – Daniel Defoe (L)
Jane Eyre – Charlotte Bronte (O)
Johnny Tremain – Esther Forbes (L)
The Little Prince – Antoine de Saint-Exupery (L)
Marjorie Morningstar – Herman Wouk (L)
Mary Poppins – P.L. Travers (L)
Mrs. Frisby and the Rats of NIMH – Robert C. O'Brien
My Side of the Mountain – Jean Craighead George
Julie of the Wolves – Jean Craighead George (L)
Out of the Dust – Karen Hesse (L)
The Phantom Tollbooth – Norton Juster (L)
Price and Prejudice – Jane Austen (L)
Treasure Island – Robert Louis Stevenson (L)
A Tree Grows in Brooklyn – Betty Smith (O)
The True Confessions of Charlotte Doyle – Avi (L)
Winnie the Pooh – A.A. Milne (L)
The House at Pooh Corner – A.A. Milne (L)
Now We Are Six – A.A. Milne (L)
When We Were Very Young – A.A. Milne (O)
The Witch of Blackbird Pond – Elizabeth George Speare (L)
Wuthering Heights – Emily Bronte (L)
The Wonderful Wizard of Oz – Frank Baum
Science Fiction & Fantasy
The Chronicles of Prydain – Lloyd Alexander
The Black Cauldron (L)
The Castle of Llyr (L)
Taran Wanderer (L)
The High King (L)
Foundation series – Isaac Asimov
Prelude to Foundation (L)
Forward the Foundation (L)
Foundation (L)
Foundation and Empire (L)
Second Foundation (L)
Foundation's Edge (L)
Foundation and Earth (L)
Robot series – Isaac Asimov
I, Robot (L)
The Caves of Steel (L)
The Naked Sun
The Robots of Dawn (L)
Robots and Empire (L)
Dandelion Wine – Ray Bradbury (L)
Fahrenheit 451 – Ray Bradbury (O)
Ender series – Orson Scott Card
Ender's Game (O)
Speaker for the Dead (O)
Xenocide (O)
Children of the Mind
Ender's Shadow (O)
Shadow of the Hegemon (O)
Shadow Puppets (O)
Shadow of the Giant (O)
First Meetings
The Dark is Rising – Susan Cooper (L)
The Giver – Lois Lowry (L)
Gathering Blue – Lois Lowry (L)
Messenger – Lois Lowry (L)
Earthsea trilogy – Ursula LeGuin
A Wizard of Earthsea (O)
The Tombs of Atuan (O)
The Farthest Shore (O)
Dragonsong trilogy – Anne McCaffrey
Dragonsong (O)
Dragonsinger (O)
Dragondrums (O)
The Blue Sword – Robin McKinley (L)
The Hero and the Crown – Robin McKinley (L)
His Dark Materials series – Philip Pullman
Northern Lights (L)
The Subtle Knife (L)
The Amber Spyglass (L)
Lyra's Oxford (L)
Classic Girl & Her Horse books
Black Beauty – Anne Sewell (L)
Misty of Chincoteague by Marguerite Henry (L)
My Friend Flicka – Mary O'Hara (L)
National Velvet – Enid Bagnold
The Girl Who Loved Wild Horses – Paul Goble (L)
Mythologies & Fairy Tales
Bulfinch's Mythology – Thomas Bulfinch (L)
The Complete Hans Christian Andersen Fairy Tales – Hans Christian Andersen (L)
One Thousand and One Arabian Nights (L)
The Complete Grimm's Fairy Tales – The Brothers Grimm (L)
The Adventures of Robin Hood – Roger Lancelyn Green
The Once and Future King – T.H. White
Beauty: A Retelling of the Story of Beauty and the Beast – Robin McKinley (L)
The Odyssey – Homer (L)
Old Fashioned Girl Detective Series
Nancy Drew series – Carolyn Keene
The Secret of the Old Clock (L)
The Hidden Staircase (L)
The Bungalow Mystery (L)
The Mystery at Lilac Inn (L)
The Secret at Shadow Ranch (L)
The Secret of Red Gate Farm (L)
The Clue in the Diary (L)
Nancy's Mysterious Letter (L)
The Sign of the Twisted Candles (L)
The Password to Larkspur Lane (L)
The Clue of the Broken Locket (L)
The Message in the Hollow Oak (L)
The Mystery of the Ivory Charm (L)
The Whispering Statue (L)
The Haunted Bridge (L)
The Clue of the Tapping Heels (L)
The Mystery of the Brass-Bound Trunk
The Mystery at the Moss-Covered Mansion (L)
The Quest of the Missing Map (L)
The Clue in the Jewel Box (L)
The Secret in the Old Attic (L)
The Clue in the Crumbling Wall (L)
The Mystery of the Tolling Bell (L)
The Clue in the Old Album (L)
The Ghost of Blackwood Hall
The Clue of the Leaning Chimney (L)
The Secret of the Wooden Lady (L)
The Clue of the Black Keys (L)
The Mystery at the Ski Jump (L)
The Clue of the Velvet Mask (L)
The Ringmaster's Secret (L)
The Scarlet Slipper Mystery (L)
The Witch Tree Symbol (L)
The Hidden Window Mystery
The Haunted Showboat (L)
The Secret of the Golden Pavilion (L)
The Clue in the Old Stagecoach (L)
The Mystery of the Fire Dragon (L)
The Clue of the Dancing Puppet
The Moonstone Castle Mystery
The Clue of the Whistling Bagpipes (L)
The Phantom of Pine Hill
The Mystery of the 99 Steps
The Clue in the Crossword Cipher (L)
The Spider Sapphire Mystery (L)
The Invisible Intruder (L)
The Mysterious Mannequin (L)
The Crooked Banister (L)
The Secret of Mirror Bay (L)
The Double Jinx Mystery (L)
Mystery of the Glowing Eye (L)
The Secret of the Forgotten City (L)
The Sky Phantom (L)
The Strange Message in the Parchment (L)
Mystery of Crocodile Island
The Thirteenth Pearl
Trixie Belden series – Julie Campbell
The Secret of the Mansion
The Red Trailer Mystery
The Gatehouse Mystery
The Mysterious Visitor
The Mystery Off Glen Road
The Mystery in Arizona
The Mysterious Code
The Black Jacket Mystery
The Happy Valley Mystery
The Marshland Mystery
The Mystery at Bob-White Cave
The Mystery of the Blinking Eye
The Mystery on Cobbett's Island
The Mystery of the Emeralds
The Mystery on the Mississippi
The Mystery of the Missing Heiress
The Mystery of the Uninvited Guest
The Mystery of the Phantom Grasshopper
The Secret of the Unseen Treasure
The Mystery off Old Telegraph Road
The Mystery of the Castaway Children
The Mystery on Mead's Mountain
The Mystery of the Queen's Necklace
The Mystery at Saratoga
The Sasquatch Mystery
The Mystery of the Headless Horseman
The Mystery of the Ghostly Galleon
The Hudson River Mystery
The Mystery of the Velvet Gown
The Mystery of the Midnight Marauder
The Mystery at Maypenny's
The Mystery of the Whispering Witch
The Mystery of the Vanishing Victim
The Mystery of the Missing Millionaire
The Mystery of the Memorial Day Fire
The Mystery of the Antique Doll
The Pet Show Mystery
The Indian Burial Ground Mystery
The Mystery of the Galloping Ghost (1986)