2008: #61 – Full Tilt (Janet Evanovich)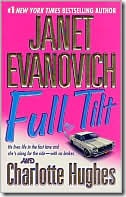 Book #61 was Full Tilt, the second book in Janet Evanovich's Max Holt series.  The back of the book reads:
He lives life in the fast lane and she's along for the ride-with no brakes….

Jamie Swift has one priority in quiet Beaumont, South Carolina: running the local newspaper. Romance runs second. But with the arrival of her silent partner, the notoriously mysterious and sexy Maximillian Holt, Jamie's life gets shaken up. Max claims he's here to give his brother-in-law a vote of confidence. A former wrestler, Frankie Fontana's now taking his shots in the political ring. Beaumont could use a mayor with scruples, but what it gets is a crime-and what Jamie gets is a story that's taking her for a ride on the wild side, complete with two assassins, a washed-up stripper, and an insane poacher. Between a spray of bullets and a fast getaway could it get any more romantic-or dangerous? Max and Jamie are betting their lives on a long shot.
I thought this was a great read (and listen).  If there's one thing Janet Evanovich has a knack for, it's colorful, interesting characters, and there's no shortage of them here. From Frankie the ex-wrestler to the gun-toting Vera to Deedee's personal assistant Beenie, they're all here to entertain you.  I recently watched the first two seasons of Eureka, and Muffin could be Sarah's sister (and I'm sorry that you won't get this unless you've seen the show, but Sarah's a house). It's not clear for quite a while why exactly someone might be gunning for Frankie, but it doesn't really matter.  The mystery is secondary to the interaction between Max and Jamie.
I really liked the open-ended ending.  Who is this mysterious preacher?  What is his problem with Max?  And will Max ever get into Jamie's pants?  Another lighthearted, fun read from Ms. Evanovich.
Page count: 352 | Word count: 72,716
2007: The Color of Magic (Terry Pratchett)
2006: City of Bones (Michael Connelly)
2005: J is for Judgment (Sue Grafton)