2011: #34 – Every Secret Thing (Laura Lippman)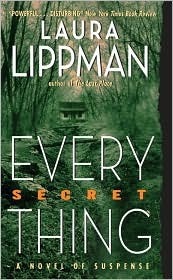 Book #34 was Every Secret Thing by Laura Lippman. The back of the book reads:
Two little girls banished from a neighborhood birthday party take a wrong turn down an unfamiliar Baltimore street—and encounter an abandoned stroller with an infant inside. What happens next is shocking and terrible, and three families are irreparably destroyed.

Seven years later, Alice Manning and Ronnie Fuller, now eighteen, are released from "kid prison" to begin their lives over again. But the secrets swirling around the original crime continue to haunt the parents, the lawyers, the police—all the adults in Alice and Ronnie's lives. And now another child has disappeared, under freakishly similar circumstances …
This was Laura Lippman's first stand-alone mystery, and it didn't disappoint. It's a slow-building, sneaky mystery. We know from the start that something terrible happens to baby Olivia Barnes and that Alice and Ronnie were responsible, but the details leak out slowly, drip by drip. The best part of the book is that you're never quite sure whose side you should be on. Is Alice as innocent as she seemed? Is Ronnie the sociopath she first seemed to be? What did Alice's mother have to do with it? Why is the public defender so invested? Even the victim's mother, Cynthia Barnes, isn't particularly likeable. In fact, she's quite bitchy throughout most of the book. You want to excuse her behavior, but is there a point where enough is enough?
There are some quite surprising twists in the story, and that's what makes it extra special for me. It's hard for me to find a book with a plot that surprises me. This just cements Lippman's place on my "Damn, She's Good" list.
Other reviews:
Book Review: Every Secret Thing « ReviewsbyLola's Blog
Audiobook length: 12 hrs 16 min | Word count: 101,558 ('11 total: 3,304,360)
2010: A Lesson Before Dying (Ernest J. Gaines)
2009: The Uncommon Reader (Alan Bennett)
2008: A Dirty Job (Christopher Moore)
2007: The Lucky Ones (Rachel Cusk)
2006: Memory in Death (J.D. Robb)
2005: Dead Wrong (Mariah Stewart)
Used in these Challenges: 2011 Audiobook Challenge; Outdo Yourself Reading Challenge 2011;