2008: #78 – Considering SomeplacElse (B.L. Lindstrom)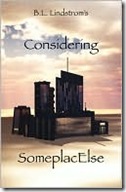 Book #78 was Considering SomeplacElse by B.L. Lindstrom. The back of the book reads:
At the turn of this century, a homeless man was allowed to win the lottery. It was hoped that he would change the world for the better, forever. After 12 years, SomeplacElse, his divinely inspired utopian experiment in the sub-urban Arizona desert, has reached critical mass. As Fate would have it, over the next five days the stories of a chronically underemployed baby boomer and a soon-to-be-governor, playboy millionaire will determine the future of this earthly Eden.
This was *so* not what I was expecting. I started this thinking I was getting some sort of utopian sci-fi story, but instead I feel Considering SomeplacElse fits a little more securely in the Christian fiction genre. In this case, the unexpected wasn't a bad thing. I quite enjoyed the story of Norm, the "chronically underemployed baby boomer" who finds himself interviewing at SomeplacElse. Then, about halfway there's a sudden twist as the story changes to that of Adam Wainwright, the "soon-to-be-governor playboy millionaire". Norm is a much more likeable character than Adam, who really doesn't have many redeeming qualities at all, despite the importance of his part in the story. Things get a little jumbled and busy once you get to the climax of the story, but overall I found this to be a very satisfying read, which just goes to show you that you don't need to agree with a book's politics or spirituality to enjoy its story.
Page count: 327 | Approximate word count: 81,750
2007: Shroud for a Nightingale (P.D. James)
2006: Voyager (Diana Gabaldon)
A Reminder! My giveaway for A Paragon of Virtue is open until tomorrow at midnight!