2008: #86 – Before I Wake (Dee Henderson)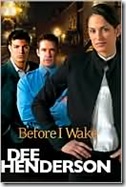 Book #86 was Before I Wake by Dee Henderson. The back of the book reads:
Welcome to Justice . . .
And good luck leaving alive.

Sheriff Nathan Justice loves the town he serves. Founded by his family generations before, Justice, Illinois, is mostly a peaceful place. But the tranquility has just been shattered.

Women visiting Justice are being murdered. Tourists in nice hotels, money still in their billfolds, jewelry still on the dresser. Quiet kills—they go to sleep and never awaken.

Rae Gabriella left the FBI after an undercover investigation turned terribly wrong. She's seeking to rebuild her life, and working as a private investigator alongside her former boyfriend Bruce Chapel in Justice, Illinois, seems like a place to start. But she suspects finding some peace and restoring her shaken faith will take more than just a change of location.

The sheriff is not pleased to find Rae working a case on behalf of one of the victims' families. Rae is staying in the same hotel where one of the women died, and her looks suggest she could be the next victim. Now that Bruce, Rae, and Nathan are forced to work around each other, the situation is threatening to become something much more personal . . . and it will test the faith of everyone it touches before it is over. . . .
This is my second foray into Christian (or "inspirational") fiction in the last couple of months, which is unusual for me. In this case, I liked the story, a lot. There's some lack of resolution at the end, so I expect this will turn into a series. I liked all three main characters, and I thought the mystery was interesting and complex enough to keep you guessing. But, I found the preaching to be a little heavy in this. It's certainly not offensive to me, but I found myself tuning out during a few protracted conversations about God and religion. And after I while I missed the character conflict that usually comes along with a suspense story… Everyone was just so nice to each other. So, while I liked the story, I think I'll be steering clear of this genre for a while.
Page count: 416 | Approximate word count: 104,000
2007: Angels Fall (Nora Roberts)
2006: Polar Shift (Clive Cussler)