2010: #46 – A Reliable Wife (Robert Goolrick)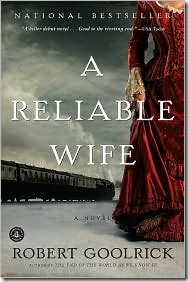 Book #46 was A Reliable Wife by Robert Goolrick.  The back of the book reads:
He placed a notice in a Chicago paper, an advertisement for "a reliable wife." She responded, saying that she was "a simple, honest woman." She was, of course, anything but honest, and the only simple thing about her was her single-minded determination to marry this man and then kill him, slowly and carefully, leaving her a wealthy widow, able to take care of the one she truly loved.

What Catherine Land did not realize was that the enigmatic and lonely Ralph Truitt had a plan of his own. And what neither anticipated was that they would fall so completely in love.

Filled with unforgettable characters, and shimmering with color and atmosphere, A Reliable Wife is an enthralling tale of love and madness, of longing and murder.
     "It was a story of a son who felt his one true birthright was to kill his father. It was the story of a father who could not undo a single gesture of his life, no matter the sympathies of his heart. It was a story of poison, poison that causes you to weep in your sleep, that comes to you first as a taste of ecstasy. It was a story of people who don't choose life over death until it's too late to know the difference, people whose goodness is forgotten, left behind like a child's toy in a dusty playroom, people who see many things and remember only a handful of them and learn from even fewer, people who hurt themselves, who wreck their own lives and then go on to wreck the lives of those around them, who cannot be helped or assuaged by love or kindness or luck or charm, who forget kindness, the feeling and practice of it, and how it can save even the worst, most misshapen life from despair.
     It was just a story about despair."
Right from the start, Goolrick shows us the people we are dealing with.  Ralph Truitt is a quiet, steadfast, private, and powerful man who expects things to be as he wants them to be, even thinking he can control what time the train arrives.  As Catherine Land dons a modest dress with her jewels sewn into the hem and throws her traveling clothes out the window of the train, we see she is not who we think she is, or who Ralph Truitt thinks she is.  In many ways, she's not even who she thinks she is.  This is a story full of surprises, without being full of suspense. It certainly wasn't the story I was expecting when I started, and it was even erotic at times. And a lot of strange things happen in this Wisconsin town in the long winter season. A tragedy is inevitable, but there is some redemption in the end.  Along the way, we are treated to some beautiful prose and complex characters.
Other reviews:
#234 ~ A Reliable Wife : literatehousewife.com
Booking Mama: Review: A Reliable Wife
Book Review: A Reliable Wife by Robert Goolrick « The Book Lady's Blog
S. Krishna's Books: A Reliable Wife – Robert Goolrick
A Reliable Wife – Book Review « Devourer of Books
Audiobook length: 8 hrs 54 min | Approximate word count: 96,000
2009: Darling Jim (Christian Moerk)
2008: A Treasure Worth Seeking (Sandra Brown)
2007: Manhunt (Janet Evanovich)
2006: Myths, Lies & Downright Stupidity (John Stossel)
2005: In the Cherry Tree (Dan Pope)
Used in these Challenges: ARC Reading Challenge 2010; 2010 100+ Reading Challenge; Audiobook Challenge; Historical Fiction Reading Challenge; New Author Challenge 2010;