2008: #94 – Living with the Truth (Jim Murdoch)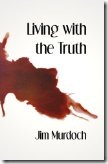 Book #94 was Living with the Truth by Jim Murdoch. The back of the book reads:
Picture, for a moment, Jonathan Payne, probably the last person in the world you would expect to be the lead character in anybody's novel, a faded old bookseller nearing the end of a wasted life. We meet him alone in his flat in a seaside town in the north of England just waiting on Death to knock at his front door.

But life has something else in store for poor Jonathan. Instead of Death he gets to spend an infuriating two days with the personification of truth who opens Jonathan's eyes to not only what his life has become but what it might have been. He discovers what he's missed out on, what other people are really thinking and the true nature of the universe which, as you might imagine, is nothing like he would have ever expected it to be.
Admittedly, this isn't my usual type of book as I'm not much into philosophy and allegorical fiction. It started out well for me, but about 3/4 of the way through I just lost interest. All of a sudden, Jonathan's interactions with Truth went from being a curious interlude in Jonathan's life to just being sad. I felt like Truth was cruel, taking a man who was already feeling poor about his life and then showing him what he had missed and misunderstood. I guess I was hoping for an Ebeneezer Scrooge or George Bailey-esque turnaround in Jonathan's life, and that's just not what was in store for him. However, if you like this sort of explorative fiction, you will probably like this.
Page count: 181 | Approximate word count: 45,250
2007: Northern Lights (Nora Roberts)
2006: A Child Called "It" (Dave Pelzer)