2008: Challenges – Countdown Challenge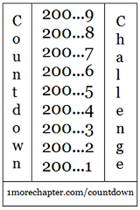 Have I mentioned I'm just a little bit addicted to challenges?  Because I love the idea of fitting the books I read into lists?  Yes, I have a problem.
This challenge is the Countdown Challenge, hosted by 1morechapter.com.
The goal of this challenge is to read the number of books first published in a given year that corresponds to the last digit of each year in the 2000s — 9 books from 2009, 8 books from 2008, etc.  The total number of books required, therefore, is 45.
This challenge lasts from 8/8/08 through 9/9/09.  Yes, it is retroactive to August 8th!
Crossovers with other challenges are allowed and your lists may change at any time.
Sign up using Mr. Linky on the challenge site.
Have fun reading!
I'm sure I've already fulfilled a portion of this list since it's retroactive, but I'll have to fill those in later! I'll be putting all of my updates here.
Last Updated: 7/31/09
2009
Eclipse (Richard North Patterson)
Plum Spooky (Janet Evanovich)
The Lost Hours (Karen White)
First Family (David Baldacci)
Darling Jim (Christian Moerk)
Mating Rituals of the North American WASP (Lauren Lipton)
Dark Places – Gillian Flynn
Reunion – Therese Fowler
April & Oliver – Tess Callahan
2008
2007
2006
2005
2004
2003
Dance with the Devil (Sherrilyn Kenyon)
The Curious Incident of the Dog in the Night-Time (Mark Haddon)
Before I Wake (Dee Henderson)
2002
Undead and Unwed (MaryJanice Davidson)
China Lake (Meg Gardiner)
2001
Skipping Christmas (John Grisham)