2009: Booking Thru Thursday – Storage
This week's question is suggested by Kat:
I recently got new bookshelves for my room, and I'm just loving them. Spent the afternoon putting up my books and sharing it on my blog . One of my friends asked a question and I thought it would be a great BTT question. So from Tina & myself, we'd like to know "How do you arrange your books on your shelves? Is it by author, by genre, or you just put it where it falls on?"
It's really hard to diagram my shelving in words, as it is a system only I can understand at first glance.  So I made a picture!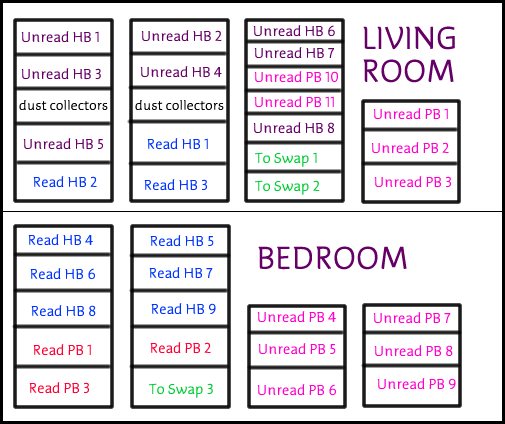 As you can see, it's quite a convoluted order, partially dictated by shelf height and my need to keep my unread books separate from my read books.  The first 6 shelves of unread paperbacks actually have 2 rows of books.  I also have 3 boxes of books to swap in an upstairs bedroom.
Within these shelves, all of my books are arranged alphabetically by author.  Otherwise, I'd *never* find anything.  Especially with the books I'm swapping, because I have to seek out specific titles one at a time.
In addition to these, I have two stacks of review/ARC books sitting on top of the small bookshelf in my living room.
It's all just a little bit ridiculous, no?
Booking Through Thursday is hosted at http://btt2.wordpress.com/.