2008: The Sunday Salon – Sunday #5

Hang on, this is going to be a long one! Not only did I miss last week's Salon, but I have some housekeeping matters to take care of.
Since the last Salon, I've only finished 3 books, and two of them were on audio. This is my busiest time of year, and between missing my reading time during my lunch hour and watching the Olympics almost every night, I haven't had much reading time. The books I finished were Hold Tight by Harlan Coben, The Finishing School by Michele Martinez, and Undead and Unwed by MaryJanice Davidson. Out of those three, The Finishing School was definitely my favorite. Since finishing that I've been reading The Face of a Stranger by Anne Perry, and it's slow going. This is the first book in her William Monk series, and it has a different feel than the Thomas and Charlotte Pitt books. I don't dislike it, but it's not a quick read. I've also started listening to The Dead Room by Heather Graham, which I have mixed feelings about so far. She's using ghosts as characters, and it's not sitting well with me. I'll give it a little longer.
I have 6 additions to my library in the last two weeks!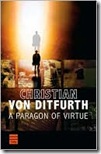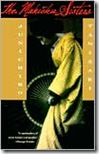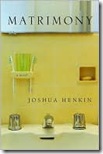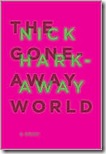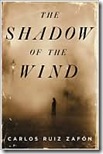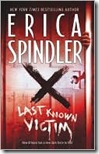 A Paragon of Virtue is an ARC from the LibraryThing Early Reviewers Group. The Gone-Away World is another ARC. The Shadow of the Wind is an ARC of a special edition that's coming out at the end of the year, and I won it at Pat's Fantasy Hotlist. Matrimony was sent to me by the author, Joshua Henkin, and I will be giving away one of the new paperback versions in October! I will be reviewing Last Known Victim for J.Kaye in the next few weeks. Finally, The Makioka Sisters came to me through PaperbackSwap. Quite the variety of sources!
Finally, I'm going to be participating in My Friend Amy's Book Bloggers Appreciation Week. If you're a book blogger, or just a book blogger reader, you should go there and register too!
My post next Sunday may be a bit late due to the Labor Day weekend and my parents visiting. If you get a three-day weekend next week, I hope you enjoy it!