2011: Challenges – 2011 TBR Pile Challenge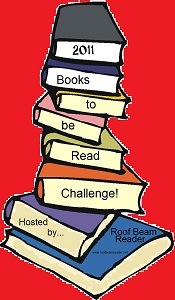 The 2011 TBR Pile Challenge is hosted by Roof Beam Reader. And there's prizes! The goal is to finally read 12 books from your "to be read" pile, within 12 months. The rules of the challenge are:
Each of these 12 books must have been on your bookshelf or "To Be Read" list for AT LEAST one full year. Caveat: Two (2) alternates are allowed, just in case one or two of the books end up in the "can't get through" pile.
To be eligible, you must sign-up with Mr. Linky – link to your list (so create it ahead of time!) and add updated links to each book's review.  Every listed book must be completed and must be reviewed in order to count as completed.
Your list must be posted by Friday, December 31st, 2010.
Leave comments on this post as you go along, to update your status. Go back if/when you complete this challenge and leave a comment indicating that you CONQUERED YOUR 2011 TBR LIST!  Every person who successfully reads his/her 12 books and/or alternates (and who provides a working link to their list, which has links to the review locations) will be entered to win a $50 gift card from either Amazon.com or The Book Depository!
There may be mini-challenge "check-ins" throughout 2011, to award and recognize those participants who are progressing through the challenge, such as a "Spring Break Check-In!" or a "6 Month Pit Stop!" Participants who are making equal progress to-date (6 books at the 6 month check-in, for example) could win a prize!
Crossovers from other challenges are totally acceptable, as long as you have never read the book before and it was published pre-2010!
Full rules and sign-up are on the challenge post. I don't always do so hot on challenges where I have to choose my books ahead of time, but we'll see how it goes! My list is:
last updated: 9/15/11
Suspect – Michael Robotham
Hidden Fires – Sandra Brown
The Language Police – Diane Ravitch
The Idea of Perfection – Kate Grenville
The Devil in the White City – Erik Larson 
Half-Assed – Jennette Fulda
Endless Night – Richard Laymon
Dead End Dating – Kimberly Raye
Cathedral – Nelson DeMille
Blood Memory – Greg Iles
Where Are You Now? – Mary Higgins Clark
Villa Incognito – Tom Robbins
Alternates:
Code Name: Nanny – Christina Skye
The Memory Keeper's Daughter – Kim Edwards