2010: Sunday Salon – Merry Christmas Edition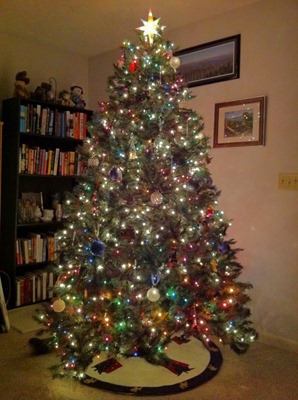 Merry Christmas! Even though it is belated. I hope you all had a good one! We are spending Christmas with my family in Nashville, where they actually had a white Christmas for the first time in 17 years.  It wasn't a lot, less than 2 inches, but it's been enough to keep us inside.  Thankfully the boatload of snow that's being dumped on the east coast has missed our house, so we should only have a few inches to wade through when we get home on Tuesday.
We had a fun Christmas yesterday with my parents and my sister, her husband, and 2 kids.  Unfortunately, my brother couldn't make it because he was on 24-hour guard duty on base. But we ate, played games (both board and Wii), opened presents, and watched my 6 year old niece master the iPad.  Frightening. The only book in my Christmas goodies was one called Cooking for Geeks given to me by my husband.  It wasn't unexpected — I didn't put any books on my wishlist because I get most of my new stuff on the kindle now.  I got some new towels, a dutch oven, a new cutlery set, some clothes, and a few other little things.  There was a distinct "I need to replace these items in my kitchen and bathroom" theme to my wish list this year.  We'll be having a 2nd Christmas with Scott's family in a few weeks, and I think we're getting a GPS.  I have google maps on my phone, but it's really not the same as having a GPS.
We got my dad a kindle this year, so it was fun helping him get it set up. Tomorrow, my mom and I are going to go shopping and spend some gift cards!
Even though it's not quite the end of the year yet, I thought I'd go ahead and share my favorite books from each month this year.  I have a couple more reviews to write, and challenges to post about, so the likelihood of me remembering to make a separate post about this is pretty slim.
So here are my favorites of 2010!
January: Shogun by James Clavell — It's easy to see why it's so well-known!
February: The Kitchen House by Kathleen Grisson — Civil War fiction with a twist
March: Black Seconds by Karin Fossum — Haunting
April: White Witch, Black Curse by Kim Harrison — another great entry in the Rachel Morgan series
May: The Girl Who Kicked the Hornet's Nest by Stieg Larsson — well worth the wait
June: Undertow by Syndey Bauer — a story of bigotry turned upside-down
July: The Anniversary Man by R.J. Ellory — What happens if you're the victim who survives?
August: Broken by Karin Slaughter – Will Trent in Grant County
September: Snow Flower and the Secret Fan by Lisa See — a misunderstanding shapes two lives
October: Baltimore Blues by Laura Lippman — a series I wish I had started sooner
November: Eye of the Needle by Ken Follett — the book that launched Ken Follett's career
December: The Tapestry of Love by Rosy Thornton — gentle and welcoming, like an old friend
What were your favorite books this year?