2009: #109 – Vixen 03 (Clive Cussler)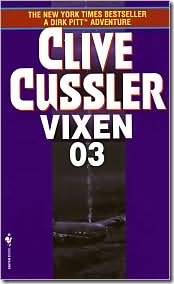 Book #109 was Vixen 03, the fifth book in Clive Cussler's Dirk Pitt series.  The back of the book reads:
1954. Vixen 03 is down. The  plane, bound for the Pacific carrying thirty-six  Doomsday bombs — canisters armed with quick-death  germs of unbelievable potency — vanishes. Vixen has  in fact crashed into an ice-covered lake in  Colorado. 1988. Dirk Pitt, who heroically raised  the Titanic, discovers the wreckage of  Vixen 03. But two deadly canisters  are missing. They're in the hands of a terrorist  group. Their lethal mission: to sail a battleship  seventy-five miles up the Potomac and blast  Washington, D.C., to kingdom come. Only Dirk can stop them.
I think this is the point where Cussler starts to hit his prime with the Dirk Pitt series.  Dirk has grown out of most of his early ultra-misogynistic tendencies, and is even showing some serious feelings for Congresswoman Loren Smith. In fact, he is spending some "alone time" with her at her father's cabin in Colorado when he makes a series of discoveries that lead him to the wreck of Vixen 03, an Air Force plane that had been presumed lost in the Pacific over 30 years previously.  What you really don't expect is for this aircraft to eventually tie in to the fight against Apartheid in South Africa and an aggrieved retired Royal Navy captain.  There's not a lot of NUMA in this, though there are a couple of appearances by Al Giordino and Admiral Sandecker. You do get one of Cussler's usual big finishes, complete with all of the unbelievability and close calls that make this series so much fun to read.
Audio length: 10 hrs 50 min | Approximate word count: 96,000
2007: Nothing Lost (John Gregory Dunne)
2006: The Falls (Ian Rankin)