2011: #4 – Bite Me (Christopher Moore)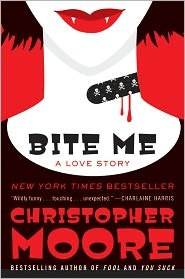 Book #4 was Bite Me, the third and final book in the Love Story Trilogy by Christopher Moore.  The back of the book reads:
"The city of San Francisco is being stalked by a huge shaved vampyre cat named Chet, and only I, Abby Normal, emergency backup mistress of the Greater Bay Area night, and my manga-haired love monkey, Foo Dog, stand between the ravenous monster and a bloody massacre of the general public."

Whoa. And this is a love story? Yup. 'Cept there's no whining. See, while some lovers were born to run, Jody and Tommy were born to bite. Well, reborn, that is, now that they're vampires. Good thing theirs is an undying love, since their Goth Girl Friday, Abby Normal, imprisoned them in a bronze statue.

Abby wants to be a bloodsucking fiend, too, but right now she's really busy with other stuff, like breaking in a pair of red vinyl thigh-high Skankenstein® platform boots and wrangling her Ph.D.-candidate boyfriend, Steve (the love monkey). And then there's that vampire cat Chet, who's getting bigger and smarter—and thirstier—by the minute. Abby thought she and Steve could handle the kitty cat on their own, mais non . . .

Before you can say "OMG! WTF?" Tommy and Jody are sprung from captivity, and join forces with Abby, Steve, the frozen-turkey-bowling Safeway crew, the Emperor of San Francisco and his trusty dogs Lazarus and Bummer, Abby's gay Goth friend Jared, and SF's finest Cavuto and Rivera to hunt big cat and save the city. And that's when the fun really begins.
Moore has wrapped up his trilogy in fine fashion.  As before, the star here really is Abby Normal, whose voice cuts through everything else.  Especially entertaining is her quest to become "Nosferatu" — much more entertaining than chasing herds of vampyre cats around the city. I also enjoyed the mysterious orange-socked samurai. Not quite as entertaining was anything that had to do with Cavuto, Rivera, or the Animals. But, I can sit through periods of slow stuff as long as I know there's more of Abby's narration around the corner.
And with that, I have completed the oeuvre of Christopher Moore. At least, until Sacré Bleu is published.
Other reviews:
BookNAround: Review: Bite Me by Christopher Moore
What Cheesy Reads: #97 Bite Me by Christopher Moore
Audiobook length: 8 hrs 4 min | Approx. word count: 80,000 ('11 total: 357,600)
2010: Night Fire (Catherine Coulter)
2009: Kopek the Destroyer (Phil Owens)
2008: The Ice Queen (Alice Hoffman)
2007: Agnes of God (Leonore Fleisher)
2006: Postmortem (Patricia Cornwell)
2005: The Bad Beginning (Lemony Snicket)
Used in these Challenges: Countdown Challenge 2011; 2011 Audiobook Challenge; Outdo Yourself Reading Challenge 2011;