2009: #115 – Kitty Goes to Washington (Carrie Vaughn)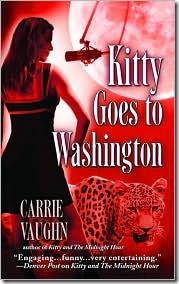 Book #115 was Kitty Goes to Washington, the second book in Carrie Vaughn's Kitty Norville series.  The back of the book reads:
Celebrity werewolf and late-night radio host Kitty Norville prefers to be heard and not seen. So when she's invited to testify at a Senate hearing on behalf of supernaturals, and her face gets plastered on national TV, she inherits a new set of friends, and enemies, including the vampire mistress of the city; an über-hot Brazilian were-jaguar; and a Bible-thumping senator who wants to expose Kitty as a monster. Kitty quickly learns that in this city of dirty politicians and backstabbing pundits, everyone's itching for a fight.
I actually liked this second Kitty book a little more than the first.  There wasn't all of the pack politics, and Kitty is starting to show her backbone. Of course, there are politics of a different sort at work here, as Kitty has been subpoenaed to testify in front of a congressional committee about the existence of preternatural beings.  She finds herself bombarded from all sides, by not only a fire-and-brimstone conservative senator and a tabloid reporter, but also the mistress of DC's vampires. I did find the confrontation with cult leader Elijah Smith to be a little too quick, almost an afterthought.  I think there should have been some more buildup for that storyline.  But overall, I really liked this and will definitely be continuing with the series.  And hopefully, there will be more of were-jaguar Luis!
Other reviews:
Carrie Vaughn: Kitty Goes To Washington – Book Review
Booking Mama: Review: Kitty Goes to Washington
Gripping Books: Kitty Goes to Washington
Sam's Book Blog: Kitty Goes To Washington by Carrie Vaughn
Pat's Fantasy Hotlist: Kitty Goes to Washington
Page count: 360 | Word count: 86,675
2007: A Lick of Frost (Laurell K. Hamilton)
Used in these Challenges: Countdown Challenge 2010;