2009: #88 – Unnatural Exposure (Patricia Cornwell)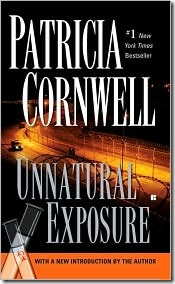 Book #88 was Unnatural Exposure, the eighth book in Patricia Cornwell's Kay Scarpetta series.  The back of the book reads:
When the body of an elderly woman is found dismembered in a Virginia landfill, forensic pathologist Kay Scarpetta initially believes that the clues mirror that of a serial killer she's encountered before. But upon further investigation she discovers puzzling pox-like eruptions on the woman's body that, perhaps, point in another direction.

The killer then contacts Scarpetta via e-mail, and she enlists the aid of her computer-savvy niece, Lucy, to help track this monster through cyberspace. When Scarpetta learns that the Virginia victim was exposed to a high-tech virus that might unleash an epidemic, she begins to realize that she's dealing with a sophisticated and devious mind.

Her investigation leads her to the government's biological defense facility in Utah and to Atlanta's Center for Disease Control–and eventually to quarantine, when it's discovered that Scarpetta has been exposed to this often fatal virus. Along the way, she's forced to deal with the unscrupulous ambitions of a slick FBI agent, Lucy's problems, and her own turbulent feelings for Agent Wesley Benton.

Taut with unrelieved tension and continual surprises, Unnatural Exposure is the case of Kay Scarpetta's life–and a triumph for Patricia Cornwell.
I'm just not sure what to think about this series.  I like forensics angle, and the mystery, but these later books are just so bogged down in the sturm und drang of Kay's life. Oh, the malaise! Kay Scarpetta has the angst of your average 15 year old girl, and it's starting to get in the way. The story here is interesting and does make you wonder about what would have to happen if a disease such as smallpox were to be used as a weapon, and the final confrontation was good, but I found the "who" in the "whodunnit" rather unsatisfying. Part of what makes a mystery satisfying is the discovery of whether or not you are right in your suspicions, but in this book there really was no way to figure it out ahead of time. Yet, I keep reading them.
Page count: 384 | Word count: 86,791
2008: I'm Watching You (Mary Burton)
2007: The Ritual Bath (Faye Kellerman)
2006: You Belong To Me (Mary Higgins Clark)
Used in these Challenges: 100+ Reading Challenge 2009; Read Your Own Books Challenge;