2009: #122 – Undead and Unreturnable (MaryJanice Davidson)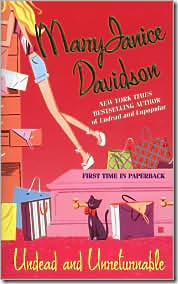 Book #122 was Undead and Unreturnable, the fourth book in MaryJanice Davidson's Queen Betsy series.  The back of the book reads:
Queen of the Vampires Betsy Taylor is in the middle of planning the perfect wedding to drop-dead gorgeous vamp Eric Sinclair. But all is not bouquets and bridal showers-Betsy is plagued by ghosts who demand her help in rectifying their past mistakes, and a serial killer is on the loose. With his victims all being tall, blond women, Betsy fits the profile exactly.
This will be my last Queen Betsy book.  As much as I like the characters, there was just no plot here!  You get a few promises of interesting stuff that might happen later, particularly with Betsy's sister (the daughter of the devil), but nothing actually happens. I expected there to be a lot more involvement between Betsy and Nick as they search for the Driveway Killer, but instead, it's all wrapped up inside of a chapter in a pretty anti-climatic way. Oh yeah, you get some expected bickering between Betsy and Sinclair, but that's pretty much par for the course now.  There wasn't even any vampire politics. So I'm no longer wasting my time.
Other reviews
Review: Undead and Unreturnable « Bermudaonion's Weblog
Rhinoa's Ramblings: Undead and Unreturnable – MaryJanice Davidson
Page count: 288 | Word count: 47,157
2007: Blue Smoke (Nora Roberts)
Used in these Challenges: Countdown Challenge 2010