2021: #74 – Riley Thorn and the Dead Guy Next Door (Lucy Score)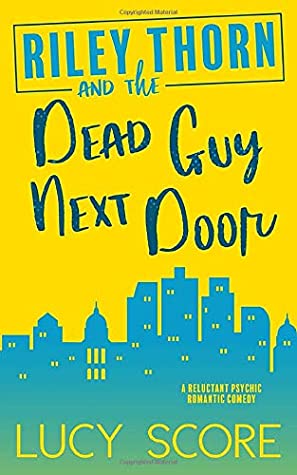 Riley Thorn and the Dead Guy Next Door
by
Lucy Score
Series:
Riley Thorn #01
on August 27, 2020
Genres:
comedic fiction
,
mystery
,
amateur investigator
,
romance
,
contemporary romance
Pages:
542


A nice, normal life. Is that too much to ask? For Riley Thorn it is. Divorced. Broke. Living with a pack of elderly roommates. And those hallucinations she's diligently ignoring? Her tarot card-dealing mom is convinced they're clairvoyant visions.

Just when things can't get worse, a so-hot-it-should-be-illegal private investigator shows up on her doorstep looking for a neighbor...who turns up murdered.

Nick Santiago doesn't play well with others. Unless the "others" are of the female persuasion. Wink. He's a rebel, a black sheep, a man who prefers a buffet of options to being stuck with the same entree every night, if you catch his drift.

When the pretty, possibly psychic Riley lands at the top of the list of suspects, Nick volunteers to find out whodunit. Only because he likes solving mysteries not because he wants to flex his heroic muscles for the damsel in distress.

All they have to do is figure out who pulled the trigger, keep the by-the-book detective with a grudge at bay, and deal with a stranger claiming he was sent to help Riley hone her psychic gifts. All before the killer discovers she's a loose end that requires snipping.
This book is like if Stephanie Plum were competent. And a psychic. It was so much fun! Score gives us a wild cast of characters ranging from a giant stinky dog to a gentle giant of a spirt guide to a vengeful granny. The mystery is almost an afterthought to seeing Riley figure out what she's doing with her life and her psychic abilities and whether private investigator Nick should be part of it. Almost every character adds their own spice to the story. I can't wait to read the next one in the series and I hope Score writes several more!
I read this for the following reading challenges:
Other reviews:
"Riley Thorn and the Dead Guy Next Door was laugh-out-loud shenanigans at its best and I had a blast reading it. If you're looking for an escape and need to get your laugh on, look no further. You have found your next read!" — about that story
"The only downside of Lucy's books is I read them too quickly, which can't be helped. As always, I eagerly await her next one." – After the Rain