2021: #16 – The Tourist Attraction (Sarah Morgenthaler)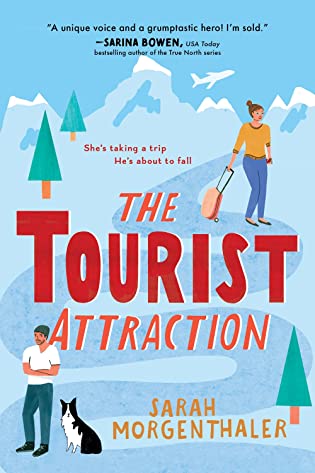 The Tourist Attraction
by
Sarah Morgenthaler
Series:
Moose Springs Alaska #01
Published by
Sourcebooks Casablanca
on May 5, 2020
Genres:
romance
,
contemporary romance
Pages:
390


He had a strict "no tourists" policy...Until she broke all of his rules.

When Graham Barnett named his diner The Tourist Trap, he meant it as a joke. Now he's stuck slinging reindeer dogs to an endless parade of resort visitors who couldn't interest him less. Not even the sweet, enthusiastic tourist in the corner who blushes every time he looks her way...

Two weeks in Alaska isn't just the top item on Zoey Caldwell's bucket list. It's the whole bucket. One look at the mountain town of Moose Springs and she's smitten.

But when an act of kindness brings Zoey into Graham's world, she may just find there's more to the grumpy local than meets the eye...and more to love in Moose Springs than just the Alaskan wilderness.
I thought this was a cute romance that gives you a little taste of Alaska in the summer. Graham gives off strong "Luke from Gilmore Girls" vibes, though he might be a little more fun than that. Zoey actually feels like a person who struggles with money and is stretching her dimes for her vacation. If your prefer your romances to be more closed-door, this one is not explicit (though it is still sexy). I liked the setting, and the tension between the townies and the tourists, so I plan on reading more of the series!
I read this for the following reading challenges:
Other reviews:
"Overall I loved The Tourist Attraction! I highly recommend that every romance lover out there gets their hands on this beauty!" — Harlequin Junkie
"If you like romance but don't care for juicy, steamy sex scenes — this is for you! It was only mildly steamy. I also LOVED the ending. So cute. Predictable but still swoon worthy. It definitely hit me in the feels!" — K8 Can Relate
"I really enjoyed this book. This was my first book by Sarah Morgenthaler and I can say that I am a fan. I would keep reading this series and her books in the future." — Books Over Everything