2009: #125 – Virgin River (Robyn Carr)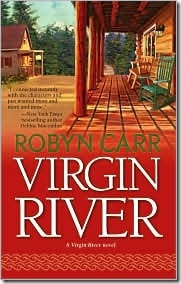 Book #125 was Virgin River, the first book in Robyn Carr's Virgin River series.  The back of the book reads:
Wanted: Midwife/nurse practitioner in Virgin River, population six hundred. Make a difference against the backdrop of towering California redwoods and crystal-clear rivers. Rent-free cabin included.

When the recently widowed Melinda Monroe sees this ad she quickly decides that the remote mountain town of Virgin River might be the perfect place to escape her heartache, and to reenergize the nursing career she loves. But her high hopes are dashed within an hour of arriving: the cabin is a dump, the roads are treacherous and the local doctor wants nothing to do with her. Realizing she's made a huge mistake, Mel decides to leave town the following morning.

But a tiny baby, abandoned on a front porch, changes her plans…and a former marine cements them into place.

Melinda Monroe may have come to Virgin River looking for escape, but instead she finds her home.
This series was recommended to me by someone a few years ago, and I'm just now getting around to giving it a shot.  I really enjoyed this!  It's more contemporary romance than romantic suspense, but it's a much more developed story than you get from something Harlequin-esque. Melinda is a fish out of water in Virgin River, and I liked seeing the town and its people through her unfamiliar eyes. The cantankerous old doctor is a bit of a cliché, but he's endearing enough that it doesn't matter. And who doesn't love a Marine?  The series as a whole focuses more on the town than on a specific main character, but I'm hoping to see familiar faces in the next books.  If you like a little more meat to your romance, this is a series for you.
Other reviews:
World According to Books: Virgin River – Robyn Carr
Bibliophile By the Sea: 174 – Virgin River; Robyn Carr
Romance Rookie: Series Sunday – Virgin River
Page count: 416 | Approximate word count: 104,000
2007: One Sunday Morning (Amy Ephron)
Used in these Challenges: Countdown Challenge 2010