2011: #23 – The Woman He Married (Julie N. Ford) & Giveaway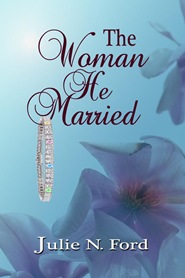 Book #23 was The Woman He Married by Julie N. Ford. The back of the book reads:
An aspiring young defense attorney, Josie McClain looked forward to taking on the injustices of the world—one case at a time. Eleven years later, she's a stay-at-home-mom, battling demons that don't require a law degree, but do demand the ability to remain insanely busy while nursing a heavy dose of denial. But keeping up pretenses proves more than she can bear when a bracelet that should have been hers shows up on the wrist of another woman. Now, in the midst of an Alabama judicial campaign, Josie's marriage to candidate John Bearden slowly begins to unravel as an ex-lover comes back into her life. When he offers her the dreams she thought she'd lost, Josie faces one of the most difficult decisions of her life. Josie embarks on a journey of self-rediscovery, hoping fulfillment might be within her reach.
Welcome to the first stop on the blog tour for Julie Ford's debut novel, The Woman He Married!
Josie McClain is at a crossroads.  Her life is nothing that she expected. Instead of being a powerhouse lawyer defending women's rights, she's a stay-at-home mother with an absentee, inattentive, possibly cheating husband, trying to fill her life with school projects and the occasional bottle of gin. She knows that something needs to change, but is leaving her husband the right choice?
Neither Josie nor John are angels. Josie has lost her spirit and is unable to stand up to her husband. She lets him, and others, walk all over her, and that's attractive to no one.  Throw in her borderline alcoholism, and there are some real problems. For his part, John is completely closed off.  He doesn't know how to relate to his wife, or how to express emotions other than anger in even the most basic way. His entire life is campaigning, and he's forgotten that his wife is neither a constituent nor an employee.
I think what is most interesting about this romance is that it's not your typical formulaic romance. Rather than being about two strangers finding love, this is about a couple trying to figure out how to rekindle the love they once had, and maybe even make it better than it ever was.
I could nitpick about a few things, like the author's tendency to use double-quotes when they're not needed, or that there are a couple of things about Josie and John's relationship that don't ring 100% true to me, but the truth is that the story is good enough to overlook the little things. There are some great touches of humor, and a sense of the life of a busy mother in the proper South, where status, reputation, and social graces still matter. I would gladly recommend this to any romance reader, and look forward to seeing what's to come from this author.
Giveaway
And now, a giveaway! Julie is hosting a contest, and the winner will receive a signed copy of the book along with a $50 Barnes & Noble gift card. All you have to do is leave a comment on this post. You can increase your chances of winning by going to the author's blog, Queries2Reviews.wordpress.com, every day from now until April 18th to visit the next blog on the tour and leave another comment. On April 20th the winner will be announced on the author's blog.
For a second chance to win, a follow-up contest is already underway. See author's blog for details.
Other stops on the tour:
Page count: 390 ('11 total: 5,962) | Approximate word count: 97,500 ('11 total: 2,171,852)
2010: Black Seconds (Karin Fossum)
2009: An Ice Cold Grave (Charlaine Harris)
2008: Whitewash (Alex Kava)
2007: Op-Center (Tom Clancy)
2006: The Kite Runner (Khaled Hosseini)
2005: Blue Gold (Clive Cussler)
Used in these Challenges: Countdown Challenge 2011; 2011 E-book Reading Challenge; ARC Reading Challenge 2011; New Author Challenge 2011; Outdo Yourself Reading Challenge 2011; Four Month Challenge – Part 6