2009: #127 – Island of the Sequined Love Nun (Christopher Moore)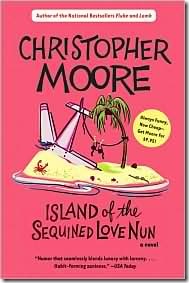 Book #127 was Island of the Sequined Love Nun by Christopher Moore.  The back of the book reads:
Take a wonderfully crazed excursion into the demented heart of a tropical paradise—a world of cargo cults, cannibals, mad scientists, ninjas, and talking fruit bats. Our bumbling hero is Tucker Case, a hopeless geek trapped in a cool guy's body, who makes a living as a pilot for the Mary Jean Cosmetics Corporation. But when he demolishes his boss's pink plane during a drunken airborne liaison, Tuck must run for his life from Mary Jean's goons. Now there's only one employment opportunity left for him: piloting shady secret missions for an unscrupulous medical missionary and a sexy blond high priestess on the remotest of Micronesian hells. Here is a brazen, ingenious, irreverent, and wickedly funny novel from a modern master of the outrageous.
This was better than the last few Christopher Moore books we've listened to.  In this book, we meet Tucker Case, who also appears in Moore's later book, The Stupidest Angel.  Tucker gets himself in a bit of trouble when he takes a drunken joyride in one of his employers jets with a beautiful lady.  About $2 million in damages later, Tucker's lost his pilot's license.  When he's approached by some supposed missionaries wanting to hire him to pilot their jet back and forth from their Micronesian island and Japan, it's an offer he can't refuse (at least, not if he wants to fly again).  Unfortunately, when Tuck gets to the island, it doesn't take long for him to realize that everything isn't as it seems.  People are getting hurt in the name of cash, and Tuck can't be a part of it.  He really has to step outside of himself and take on some major challenges to save these innocent island people.  Tuck isn't a particularly likable character at first (really, he's a screw-up), but by the end of the book he's grown into someone who can be proud of himself.  Even if he did steal a 747.
Other reviews:
Christopher Moore – Island of the Sequined Love Nun
Ace and Hoser Blook: Island of the Sequined Love Nun
Audiobook length: 11hrs 39min | Word count: 106,804
2007: Geek Love (Katherine Dunn)
Used in these Challenges: none