2009: #129 – Chill Factor (Sandra Brown)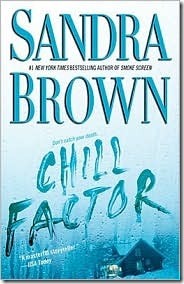 Book #129 was Chill Factor by Sandra Brown. The back of the book reads:
Suspense abounds in this gripping new thriller from New York Times bestselling author Sandra Brown, in which a successful magazine editor is trapped in her remote cabin with a man believed to be a serial killer.

Cleary, North Carolina, is a sleepy mountain town — the kind of place where criminal activity is usually limited to parking violations. Not so, lately. Four women have disappeared from Cleary over the past two years. And there's always a blue ribbon left near the spot where each of the women was last seen. There are no bodies, no other clues, and no suspicion as to who their abductor might be. And now, another woman has disappeared without a trace.

It is to this backdrop that Lilly Martin returns to close the sale of her mountain cabin, marking the end of her turbulent eight-year marriage to Dutch Burton, Cleary's chief of police. Dutch's reluctance to let her go isn't Lilly's only obstacle. As she's trying to outrun a snowstorm, her car skids on the icy road and strikes a man who emerges from the woods on foot. She recognizes the injured man as Ben Tierney, whom she'd met the previous summer. They're forced to wait out the storm in the cabin, but as the hours of their confinement mount, Lilly begins to wonder if the greatest danger to her safety isn't the blizzard outside, but the mysterious man right beside her.

Is Ben Tierney the feared abductor? Or is he who he claims to be…her rescuer from harm and from the tragedy that haunts her?

The compelling characters, sexual tension, and stunning plot twists in Sandra Brown's Chill Factor combine to create a page-turner that will keep readers guessing until the very end.
This book has stolen the "my favorite Sandra Brown" title from Envy.  It is an extremely well crafted thriller, where everyone has a secret and even nature is the enemy. This book has it all.. secret affairs, drugs, washed-up-middle-aged-bullies, a serial killer, divorce, unwanted pregnancy, the FBI, a whole lot of snow and ice, and a red herring to beat all red herrings. Brown had me fooled through the entire novel, and even when I knew I was wrong I still couldn't quite believe it. To me, this is the mark of some masterful character crafting. There's not as much romance as you usually find in a Sandra Brown, but there's enough to whet your whistle. And enough secrets to last a lifetime. There are a few holes in the police procedural parts of the plot (say that 5 times fast), but with all the intrigue, I just didn't care.
Other reviews:
Review: Chill Factor by Sandra Brown « Reactions to Reading
Page count: 416 | Word count: 122,504
2007: Lucky You (Carl Hiaasen)
Used in these Challenges: Read Your Own Books Challenge;