2009: #14 – A Fistful of Charms (Kim Harrison)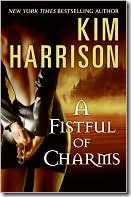 Book #14 was A Fistful of Charms, the fourth book in Kim Harrison's Rachel Morgan series.  The back of the book reads:
The evil night things that prowl Cincinnati despise witch and bounty hunter Rachel Morgan. Her new reputation for the dark arts is turning human and undead heads alike with the intent to possess, bed, and kill her—not necessarily in that order.

Now a mortal lover who abandoned Rachel has returned, haunted by his secret past. And there are those who covet what Nick possesses—savage beasts willing to destroy the Hollows and everyone in it if necessary.

Forced to keep a low profile or eternally suffer the wrath of a vengeful demon, Rachel must nevertheless act quickly. For the pack is gathering for the first time in millennia to ravage and rule. And suddenly more than Rachel's soul is at stake.
I love, love, love this series! It is easily in my top two that I've read in the last couple of years.  There's tons of action, a little bit of romance, and more witches, vamps, weres, and pixies than you can handle. Harrison has created some surprisingly complex characters that grow, change, and adapt in book after book. Especially Rachel, who continues to find out that some people aren't what they seem, and that it's hard to live your life in black and white — sometimes those shades of gray are necessary.  Jenks takes a pretty (ahem) big part in this one as he searches for his wayward son, something that could have been really gimmicky but instead worked seamlessly.  There's so much packed into this book, it's hard to believe it only takes place over the course of a week.  I have a feeling I'll be listening to the next book sooner rather than later.
Audiobook length: 17 hrs 5 min | Approximate word count: 170,054
2008: Sick Puppy (Carl Hiaasen)
2007: Judge & Jury (James Patterson)
2006: The Killing Dance (Laurell K. Hamilton)
2005: Rosemary's Baby (Ira Levin)
Used in these Challenges: The Countdown Challenge; 100+ Reading Challenge 2009; 2009 Audiobook Challenge; The 999 Challenge;