2009: #15 – College Girl (Patricia Weitz)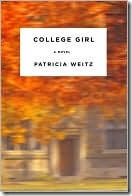 Book #15 was College Girl, a debut novel from Patricia Weitz.  The back of the book reads:
Just as Curtis Sittenfeld's bestselling Prep drew us into the world of boarding school and its social relationships, College Girl perfectly captures the experience of college, of being a student at a big state university— complete with its jocks and hipsters, frats and sororities, drinking rituals and cafeteria food, its economic, academic, and social pressures—and how it gets funneled into the campus culture of collegiate sex and dating. In particular, College Girl reveals what all this means for a girl inexperienced in sex and romance, dealing with the demons she's brought from home.

College senior Natalie Bloom is beautiful and ambitious, but also incredibly insecure and painfully uncomfortable with the subject of sex—let alone the act. She's awkward at developing friendships with girls, but it's sexual attention from boys that really makes her lose her cool. At age twenty, she's a virgin—never having had a boyfriend. Avoiding her peers, Natalie hides out most weekends in the library. That is, until she meets Patrick, her fantasy (she thinks) of a cultured, intellectual Prince Charming—and everything changes. But the more time they spend together, the more Patrick brings out her worst insecurities. Natalie loses her virginity before she's ready, and as their sexual activity escalates, Natalie's emotional responses become dangerously self-destructive. Ultimately, she must take extreme measures to reclaim her sense of self, her confidence, and her ambition.

An insightful, moving, and achingly self-aware novel that offers the psychological and emotional insight of Judy Blume and Ann Brashares, College Girl will resonate with anyone who remembers the often awkward transition from adolescence to adulthood.
I enjoyed this read, though I don't think it captures the college experience as well as it purports to. What I think it does do is speak to anyone who has felt left out and confused, unsure of themselves, or been infatuated with the wrong guy for the wrong reasons while knowing it was wrong, deep down.  Natalie has never really been taught how to be herself as she grew up in an overbearing family of older, trouble-making brothers and older parents who don't really understand her themselves. This isn't a particularly happy book, but I think that in the end, Natalie makes some decisions that she can live with, and is maybe taking the steps she needs to break away and be her own person.
Page count: 326 | Approximate word count: 97,800
2008: The Paid Companion (Amanda Quick)
2007: Dark Side of the Moon (Sherrilyn Kenyon)
2006: Burnt Offerings (Laurell K. Hamilton)
2005: F is for Fugitive (Sue Grafton)
Used in these Challenges: 100+ Reading Challenge 2009; 2009 ARC Reading Challenge; The 999 Challenge;