2009: #34 – The Uncommon Reader (Alan Bennett)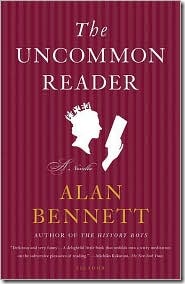 Book #34 was The Uncommon Reader by Alan Bennett.  The back of the book reads:
From one of England's most celebrated writers, the author of the award-winning The History Boys, a funny and superbly observed novella about the Queen of England and the subversive power of reading

When her corgis stray into a mobile library parked near Buckingham Palace, the Queen feels duty-bound to borrow a book. Discovering the joy of reading widely (from J. R. Ackerley, Jean Genet, and Ivy Compton-Burnett to the classics) and intelligently, she finds that her view of the world changes dramatically. Abetted in her newfound obsession by Norman, a young man from the royal kitchens, the Queen comes to question the prescribed order of the world and loses patience with the routines of her role as monarch. Her new passion for reading initially alarms the palace staff and soon leads to surprising and very funny consequences for the country at large.
I thought this was a charming little story. I could sympathize with the Queen when everyone was giving her a hard time about reading, and with her crankiness when she found herself without a book, and with her struggles to find someone to talk about books with (why do you think I'm so happy I've found a great book club?). And the twist at the end is the cherry on the sundae.
Page count: 120 | Approximate word count: 24,000
2008: A Dirty Job (Christopher Moore)
2007: The Lucky Ones (Rachel Cusk)
2006: Memory in Death (J.D. Robb)
2005: Dead Wrong (Mariah Stewart)
Used in these Challenges: Spring Reading Thing 2009; 100+ Reading Challenge 2009; The 999 Challenge; Support Your Local Library Challenge 2009;